The Nexus is no more, departs from Google Store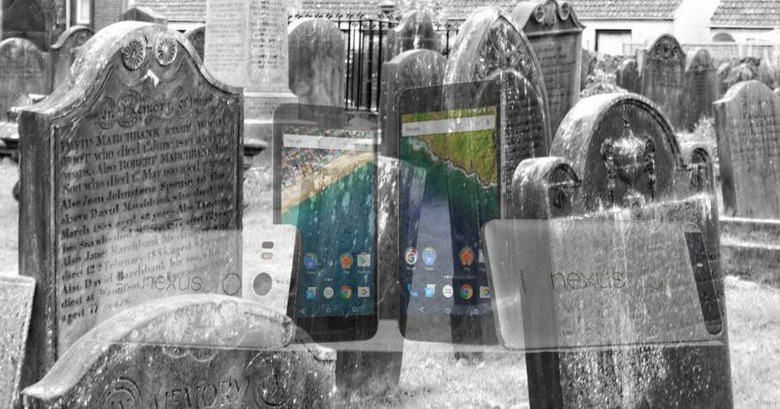 The arrival of the Google Pixel marks the first true "Made by Google" (though not literally, of course) smartphone, one that truly aims for the top spot in the smartphone market. It may also mark the end of the Nexusprogram as we know it. Although Google hasn't said so, it has removed all traces of Nexus devices, save for some cases for the Nexus 5X and 6P, from the Google Store. And commenting to The Verge, Google said it has no plans for further Nexus products.
While it strikes a fatal blow for fans of the Nexus line, it does mostly make business sense. There is a huge overlap between a Nexus and a Pixel, at least in terms of purpose. Both aim to put forward Google's vision of what an Android smartphone should be. Of course, the devil is in the details, and the Pixel differs in manufacturing, marketing, and even software as well.
Nexus devices are made in partnership with hardware manufacturers like Samsung, LG, Huawei, and, once upon a time, HTC. The design of the hardware is largely up to the OEM. In contrast, Google is pulling all the strings with the Pixel, resorting to simply hiring an ODM, in this case HTC, to actually produce the device. With the Pixel, Google is practically becoming an OEM itself, with the same production model used by, say, Apple.
Nexus devices were also more limited in their availability. Although eventually they will pop up in some stores, they are primarily sold via Google's own hardware Store, sometimes with a carrier on the sides. With the Pixel, however, Google is again doing what most OEMs do, and making it available to a wider audience. Interestingly enough, it is also doing exclusivity partnerships, making the Pixel and Pixel XL available only through Verizon.
And finally, the Pixel is truly the embodiment of Google's perfect Android dream. Not the loosely-knit, vanilla, open source version you'd find in Nexus devices. It's all about Google in the Pixel, from Photos, to Cloud, to Duo, to Allo, and, of course, to Google Assistant. The very same proprietary bits that AOSP fans are allergic to.
With the Pixel as Google's ideal Android vision, there is really little room left for a Nexus. While Google might be practically snubbing the Android modding community with this move, that has always been a niche market in Google's larger business goals. Whether the Pixel will end up differently is, of course, a different question. But for now, we can perhaps consider that the age of the Nexus is over.