The Magic Contact plays music without the need for Bluetooth or NFC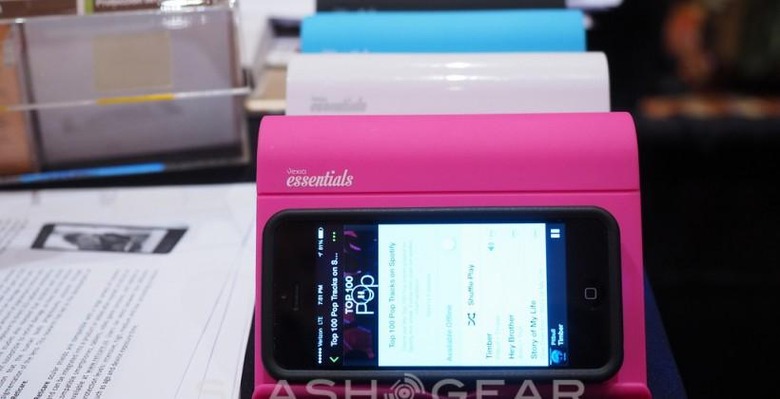 The Magic Contact is a gem of a device we found here at Showstoppers this year. The device plays music, but doesn't need a bluetooth connection. There is no need to make a clumsy NFC contact, and it amplifies sound as you move your device. How do they do it? Sometimes, the simplest things are the best.
By resting your phone on the base, the hears what is bing plead and simply amplifies it. There are four sensors embedded, which listen for the sound. From there, it simply feeds it to it's speakers, positioned on the top sides of the device. Magic Contact is like the old record player that used a horn to amplify music.
Happily, there are no device restrictions, either. It works with any device because it simply listens and plays. You control the volume output by sliding your device, making muting or turning down volume easy. We tested it with several devices, and though we had an issue with our Nexus 4, that was quickly fixed by placing it on the device in portrait rather than landscape.
The Magic Contact is a simple, brilliant concept that blew us away with it's ease of use. The sound projected from the device was as crisp as it would be on your mobile device, too. If you think something this subtly brilliant would cost a ton, you'd be wrong. The Magic Contact will only run you $35. Simple to use, and won't break the bank. This might be the coolest thing we've seen at Showstoppers at CES 2014 yet.