The green future of big rigs is almost here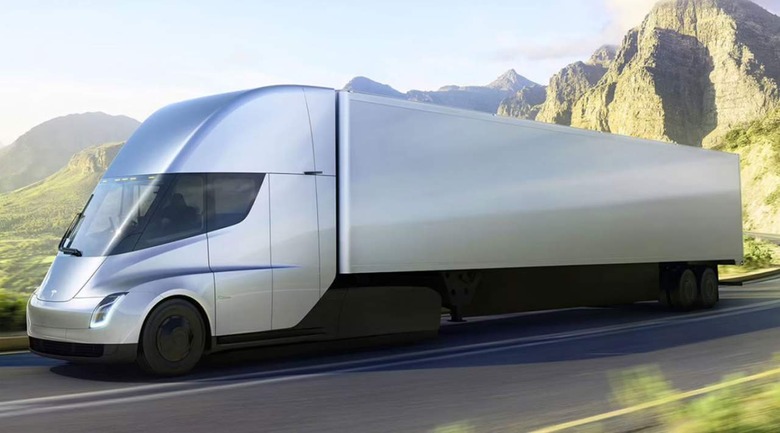 Anyone who has driven the highways in their part of the country has seen semi-trucks out delivering goods and other items. The semi-trucks you see on the roads today are powered by massive diesel engines able to run for a million miles or more. With the federal mandates attempting to push people from traditional combustion-engine vehicles to EVs, the same pressure is being felt by manufacturers of large heavy-duty trucks and large fleet owners. Several of the largest manufacturers in the semi-truck market are hard at work on electric vehicles and other zero missions technologies for the future, and here are some of their trucks.
Tesla Semi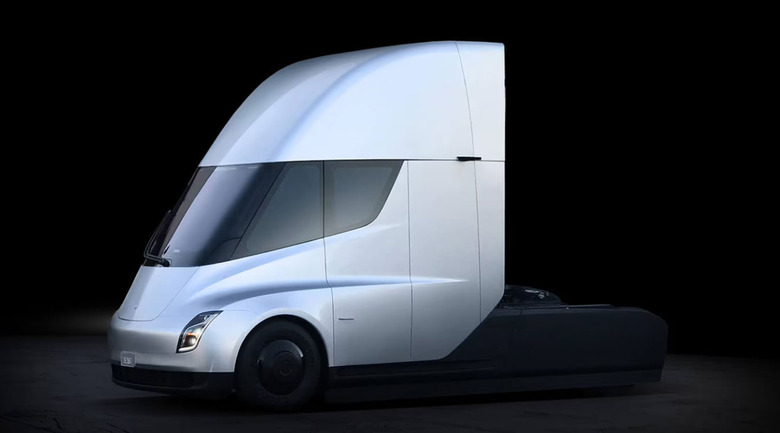 When it comes to electric cars for the masses, Tesla is the undisputed leader of the industry at this time. While Tesla is mostly known for its fully electric cars and SUVs, it's also working on the Tesla Semi, a fully electric semi-truck for hauling loads. While this truck has been delayed multiple times, it will eventually come to market, and it promises an electric driving range of 300 or 500 miles depending on the version chosen. Tesla has promised that the vehicle will consume less than 2 kWh of electricity per mile driven.
The Tesla Semi has an expected base price of $150,000 for the version with 300 miles of driving range and an expected base price of $180,000 for the 500-mile range version. While those prices sound very high, they are right in the normal range of diesel-powered semi MSRPs today. A brand-new diesel-powered semi from any manufacturer will be over $150,000, with some specialized trucks costing more than twice that.
Freighliner eCascadia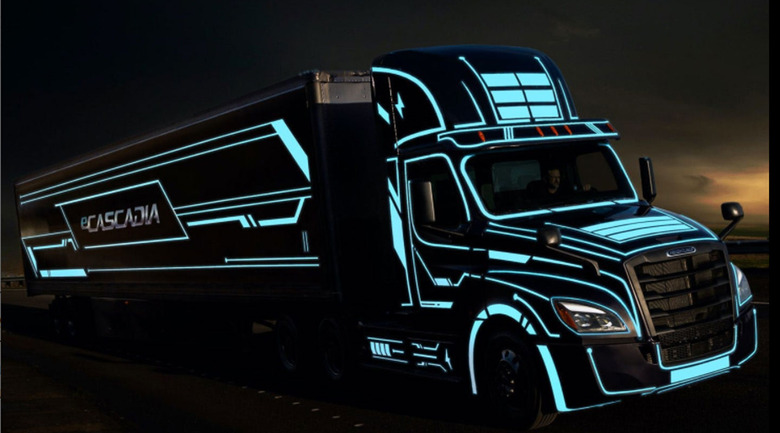 When it comes to popular trucks operated by large fleet owners and owner-operators, one of the most popular trucks out there is the Freightliner Cascadia. Freightliner has been working on a fully electric version of the Cascadia, known fittingly as the eCascadia. Freightliner's eCascadia is a Class 8 big rig with between 360 and 500 horsepower depending on the version chosen. It can carry a maximum gross cargo weight of 82,000 pounds and has an electric driving range of 250 miles.
Usable energy capacity is up to 475 kWh, and perhaps most importantly, the eCascadia can charge to 80 percent capacity in 90 minutes. A typical semi-truck being used for local or over-the-road applications can be driven by a single driver for up to 11 hours and can travel hundreds of miles during that time. Fast recharging is critical to the success of electric big rigs. Freightliner doesn't mention pricing on the eCascadia, but an average cost for a normal Cascadia today is around $165,000.
International NEXT eMobility Solutions
Another manufacturer of heavy-duty trucks for a variety of purposes is International. International hasn't given a specific name for its electric trucks, but they all fall under its NEXT eMobility Solutions umbrella. What we know about International's project is that its electric vehicle will have a 645 horsepower peak and 402 horsepower continuous. Peak torque will be 2102 foot-pounds with continuous torque at 1549 foot-pounds.
International offers three different battery capacity options, including eMV Base with 107 kWh, eMV Mid with 214 kWh, and eMV Max with 321 kWh. The company does point out that the eMV Max version is only applicable for certain chassis specifications. Much about International's electric offerings is a mystery at this point.
Peterbilt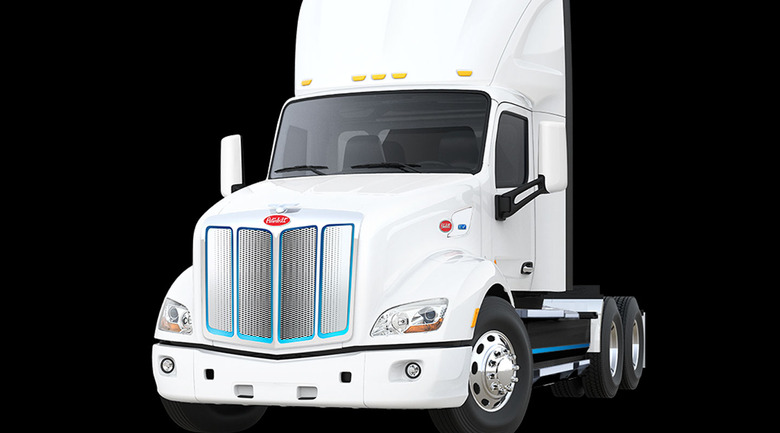 Peterbilt is one of the most popular manufacturers of semi-trucks and other heavy-duty and medium-duty trucks around. Peterbilt has multiple fully electric trucks for different uses coming, including the 220EV design for pickup and delivery, regional haul, and food and beverage applications. This is a small straight truck which means the cargo area is attached to the same frame as the tractor in the front. It offers a range of up to 200 miles.
Peterbilt's electric semi-truck is the 579EV, which uses a day cab configuration. For those who might not know, a day cab is a big rig that doesn't have a sleeper in the back typically used for local operations where the driver doesn't sleep in the truck. Peterbilt says the 579EV is designed for short-haul and drayage applications.
The last of the electric trucks that Peterbilt is making is the Model 520EV designed for commercial and residential trash pickup. Peterbilt doesn't offer any specifications on its electric big rigs at this time, so we don't know battery capacity or driving range. It's also worth noting that Peterbilt trucks tend to be some of the most expensive you can buy, typically costing more than other brands such as Freightliner.
Kenworth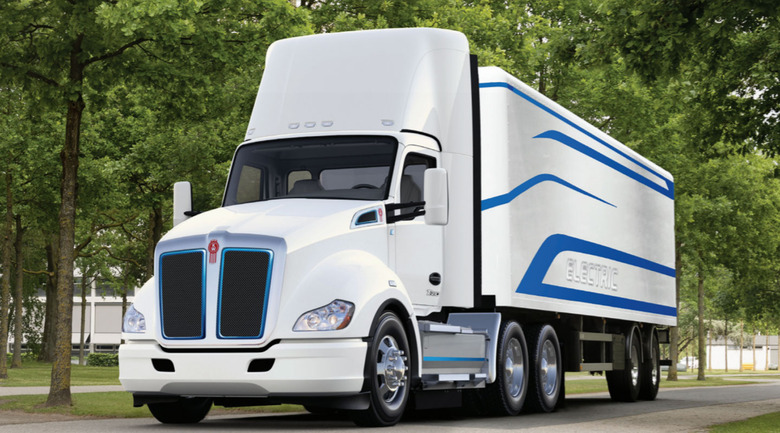 Another of the very popular manufacturers of semi-trucks is Kenworth. Kenworth has a semi called the T680E, a fully electric Class 8 big rig. Kenworth says this model has an estimated operating range of 150 miles depending on the application. The T680E is compatible with a CCS1 DC fast charger offering a maximum charge rate of 120 kWh and an estimated 3.3-hour charging time.
Kenworth's electric semi has 536 continuous horsepower and 670 horsepower. It produces 1623 pound-foot of torque, giving it plenty of towing power. Both Kenworth and Peterbilt are owned by the same PACCAR parent company, so specifications for the Peterbilt electric truck could be similar. Pricing for the T680E is unannounced, but much like Peterbilt, Kenworth trucks tend to cost more than competitive offerings from Freightliner and others.
Nikola Two and Tre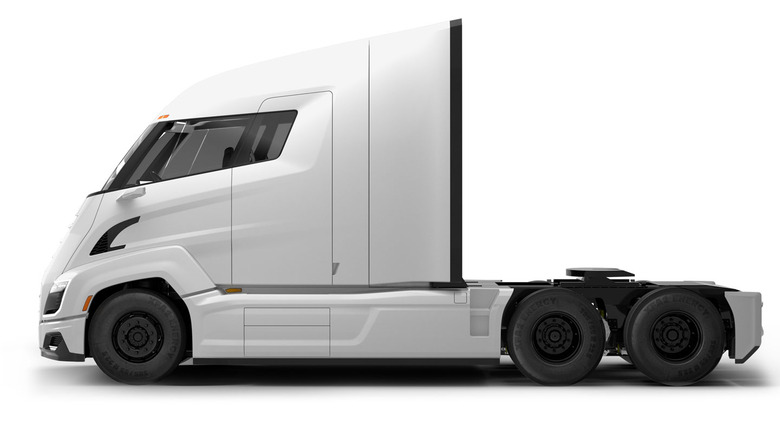 One of the more interesting zero-emissions options out there when it comes to semi-trucks comes from Nikola. Nikola has two zero-emissions models, including the Nikola Two and Nikola Tre. The Two is very different from the other zero emissions offerings because it uses a hydrogen fuel cell rather than relying on battery packs alone. The Nikola Tre is a battery-electric vehicle.
When looking at the hydrogen fuel cell Two, it is emissions-free, relying on hydrogen to produce electricity to operate the vehicle. Not long ago, Nikola confirmed that it had signed a hydrogen infrastructure agreement with TC Energy that will see the two firms roll out hydrogen fueling infrastructure along major trucking routes around the country.
The major benefit to hydrogen fuel cells for powering semis is that they can run near continuously, just as a traditional diesel-powered vehicle does. The major hurdle to overcome for any hydrogen fuel cell-powered vehicle is the hydrogen infrastructure.
The Nikola Two has a driving range of up to 900 miles and can refuel completely in 20 minutes. Its driving range and fueling time are very similar to current diesel-powered big rigs. The truck offers 645 continuous horsepower, and Nikola expects the Two to be available in 2024.
The Nikola Tre BEV has a driving range of up to 350 miles per charge thanks to its 753 kWh battery pack. It can be recharged from 10-percent to 80-percent in 120 minutes utilizing a 240kW charger. The electric vehicle has 645 continuous horsepower.
Can EV or Fuel Cell Semis Replace All Diesel Semis?
Now that we've talked about some of the zero-emissions semi-trucks that will be available from various manufacturers, it's worth taking some time to talk about how practical these trucks will be in all aspects of commercial trucking. Note that all of these electric and fuel-cell-powered semi-trucks are intended for local and short-haul trucking.
While local and short-haul trucking constitutes a large portion of the commercial trucking industry, the technology isn't there today to allow the zero-emissions big rigs to take over the industry completely. The problem for trucking companies and drivers is downtime for charging. Trucking companies and drivers don't make money if their truck isn't rolling.
In some applications, diesel-powered semi-trucks are cruising the roads around the US for up to 22 hours at a time. In many time-sensitive applications, trucking companies run team drivers. Each driver can spend 11 hours behind the wheel, and with a team of two, the truck can run for 22 hours at a time. Ideally, as a semi pulls into a hub, they're unloading the trailer they've been towing and immediately pick up another load and head back out on the road. Having a long recharge time and limited driving range simply won't work for long-haul trucking.
Assuming Nikola can roll out a hydrogen fueling infrastructure that could serve all major trucking routes, its technology seems to have the best chance of replacing traditional diesel-powered trucks. The driving range and refueling time are close enough to modern diesel trucks that hydrogen fuel cell semis could replace diesel trucks with no change to how truckers and trucking companies operate. Of course, a breakthrough in battery capacity or charging speed could eliminate the downsides of electric rigs.