The Elder Scrolls Online bribes players with a shot at $1 million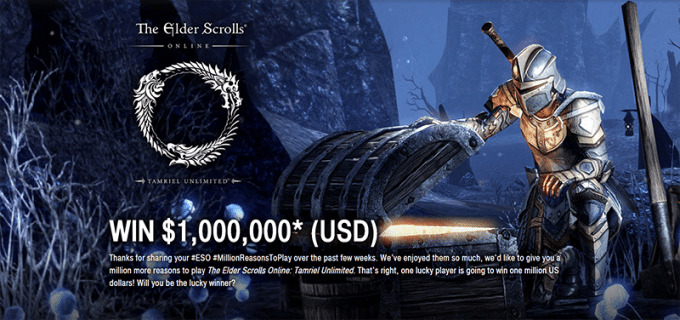 The MMO market is pretty saturated these days. There was a time where you had only a handful of options, such as Everquest, WoW and Star Wars Galaxies. Now you can't throw a rock without hitting half a dozen "WoW killers" that have gone free-to-play. So how can a publisher get their game to stick out in your mind, when you're looking for something to play? One option is to offer players a million bucks to try out your game.
That's right, one company is so desperate for you to pick up their game that they're willing to offer a cool $1 million to do it. Zenimax, the company behind The Elder Scrolls Online has decided to host a free-to-play weekend for the MMO, and everyone who logs in will get a shot at that million dollar prize.
I have to say that I'm at least tempted to load up the game, because who wouldn't want to win a giant cash prize? But when you get past that initial excitement of the prize, you have to wonder just why they would go to such extraordinary lengths to get people to play their game for a weekend. The most obvious answer to me is that they're hurting for subscriptions, and they're hoping to generate some new interest in their game.
If you're wanting a shot at the prize, you'll need to login to the game at least once (that's right, you can login, then log out, and be eligible), then head over to the Million Reasons page and fill out the entry form. The game is free-to-play from this Thursday, December 10th through Monday, December 14th. So those are your best times to login. You have until January 10th to login and fill out the entry form, however.