The Best Windows 10 2-in-1 Tablets of 2017 so far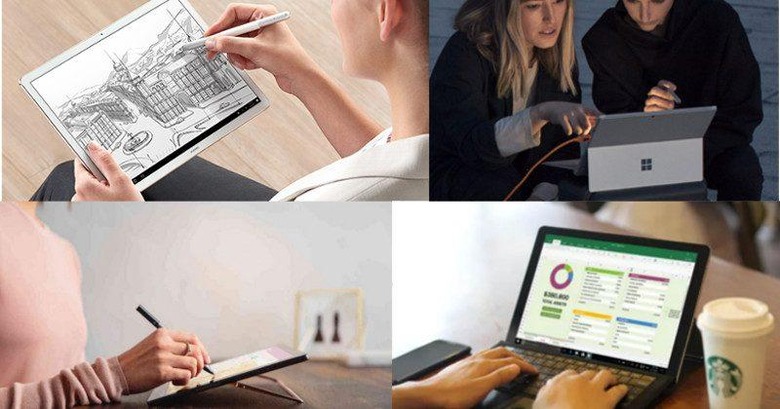 Last week in Shanghai, away from the very scrutinizing eyes of Western media, Microsoft unveiled the New Surface Pro, a.k.a. not the Surface Pro 5. Reception has been mixed, ranging from "this should have been called the Surface Pro 5" to "meh". Fortunately, Microsoft's "tablet that can replace your laptop" is no longer the only game in town. In fact, there's quite a few of them right now. We take a long at some of the most recent and most enticing 2-in-1 options so far this year to see which one might be the best for your mobile Windows 10 needs.
The New Microsoft Surface Pro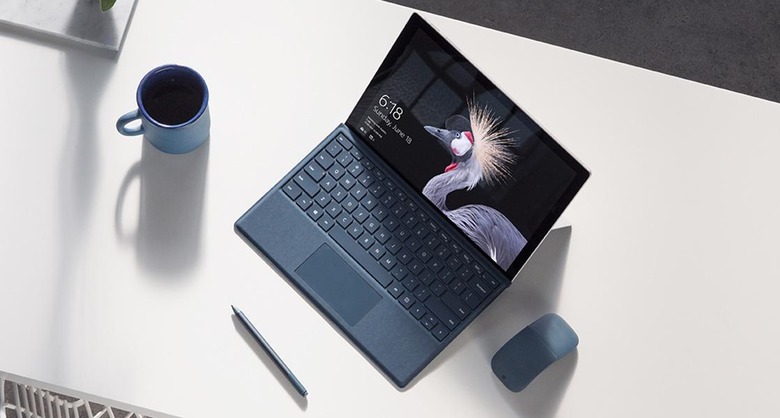 Let's start with the "granddaddy" of Windows 2-in-1s, at least as far as the new trend goes. The new, numberless Surface Pro is as mixed as the opinions about it. While Microsoft itself almost downplays the new device, this latest gen Surface Pro almost has enough new features to make upgrading from a Surface Pro 4 almost worth it. At the same time, it lacks the punch of a totally new flagship, leaving fans and prospective buyers quite conflicted.
There is a lot going for the new Surface Pro. Its top configuration definitely blows away most of the competition. The 4,096 levels of pressure sensitivity on the N-Trig Surface Pen threatens to dethrone Wacom at what it does best. The thinner and, at least promised, cooler body makes for a worry-free portable workstation. And it promises an almost unbelievable 13.5 hours of battery life, which will probably be the most debunked claim.
There are, however, areas where it failed or flat out refused to move forward. The screen hasn't changed one bit, be it in size or pixel density. And Microsoft hasn't budged on the issue of USB-A versus USB-C. But perhaps most disappointing is that, for all its power, the Surface Pen is no longer included in the price tag, effectively increasing the New Surface Pro's TCO.
• CPU: 7th gen Intel Core m3/i5/i7• RAM: 4/8/16 GB• Storage: 128/256/512 GB/1 TB SSD• Display: 12.3-inch 2736x1824 PixelSense• USB: 1 x USB 3.0• Battery: 13.5 hrs• Pen: Yes, N-Trig (Separate)• Keyboard: Yes (Separate)• Dimensions: 292 x 201 x 8.5 mm (tablet only)• Weight: 768/770/784 g (tablet only)• Price: $799 to $2,699
Samsung Galaxy Book 10.6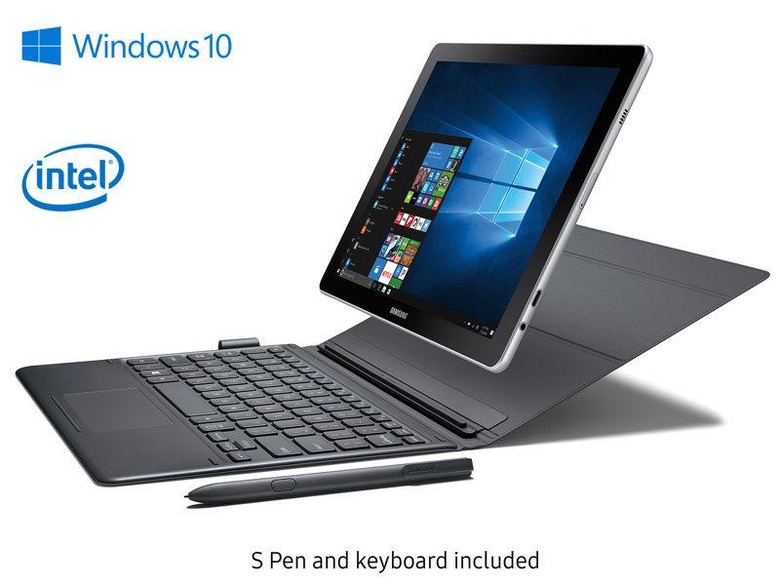 It might be unfair to have two Samsung tablets in this list, but the two models are so different to warrant it. Aside from subtle external differences, the insides are also different enough that you could almost compare this to the dichotomy between a Pro and non-Pro model of the Microsoft Surface.
The 10.6-inch Galaxy Book is arguably the smallest and lightest of the bunch. While Huawei does have something that is claimed to be lighter, the overall smaller surface area of the Galaxy Book lends itself easier to hold, especially with one hand. Plus, it's easier to cram inside a smaller bag than any 12-inch slab. Digital artists and scribblers definitely won't mind having a highly portable drawing pad or notebook, especially one powered by Wacom.
The size does come at a price. Though not exactly the weakest, the Galaxy Book 10.6 pales in comparison with its larger contemporaries. Fortunately, it does run on the latest Intel Core m3, so you are at least guaranteed some fanless performance. The bottleneck, however, will be the 4 GB of RAM and most especially the 128 GB of eMMC storage. For light computing uses, that's not going to be a problem, but do remember this is Windows we're talking about.
• CPU: 7th gen Intel Core m3• RAM: 4 GB• Storage: 128 GB eMMC• Display: 10.6-inch 1920x1080 LCD TFT• USB: 1 x USB-C• Battery: 4,000 mAh• Pen: Yes, Wacom (Included)• Keyboard: Yes (Included)• Dimensions: 261.2 x 179.1 x 8.9 mm (tablet only)• Weight: 650 g (tablet only)• Price: $729.99
Samsung Galaxy Book 12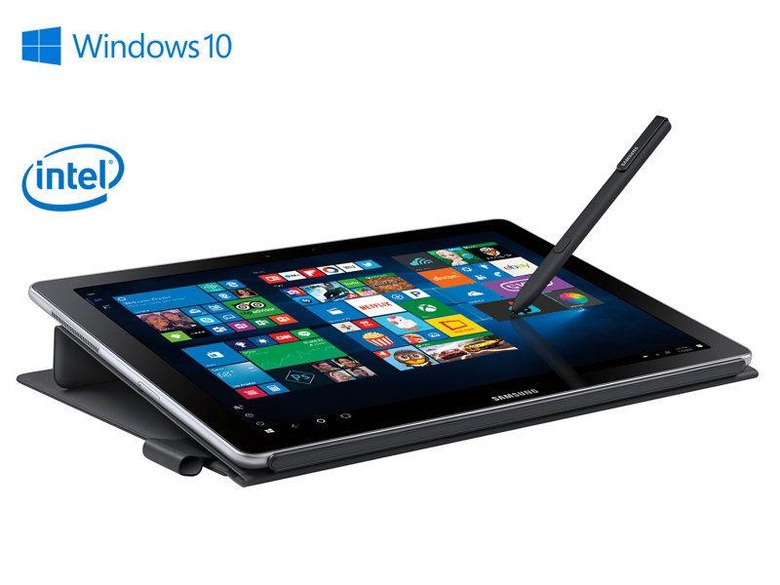 Admittedly, the Galaxy Book 10.6 almost seems like an afterthought that it's puzzling Samsung even put one out at all. It is lavishing all of its marketing attention on the larger 12-inch model and understandably so, considering it is the more powerful of the two.
More, of course, doesn't mean most. In the grand scheme of things, it does barely cut it. There are a few available configurations, depending on whether you want LTE connectivity to go with your tablet. But at most you will be given a 7th gen Intel Core i5, 8 GB of RAM and 256 GB of SSD storage. If you opt for LTE, you only get half of that. And while Samsung fortunately does throw in the essential pen and keyboard in the package, the keyboard folio cover's stability leaves much to be desired.
There are, of course, some things going for the Galaxy Book, aside from bundling the important accessories. Samsung's Super AMOLED screen is always praiseworthy, especially when lumped in with a Wacom digitizer. You'll also be hard-pressed to find a Windows 10 2-in-1 of this size to actually have not just one but two USB-C ports. It's not the only one anymore, mind, which hopefully hints at a new trend.
• CPU: 7th gen Intel Core i5• RAM: 8 GB• Storage: 256 GB SSD• Display: 12-inch 2160x1440 Super AMOLED• USB: 2 x USB-C• Battery: 11 hrs• Pen: Yes, Wacom (Included)• Keyboard: Yes (Included)• Dimensions: 291.3 x 199.8 x 7.4 mm (tablet only)• Weight: 754 g (tablet and keyboard)• Price: $1,129.99 to $1,329.99
HP Spectre x2 (2017)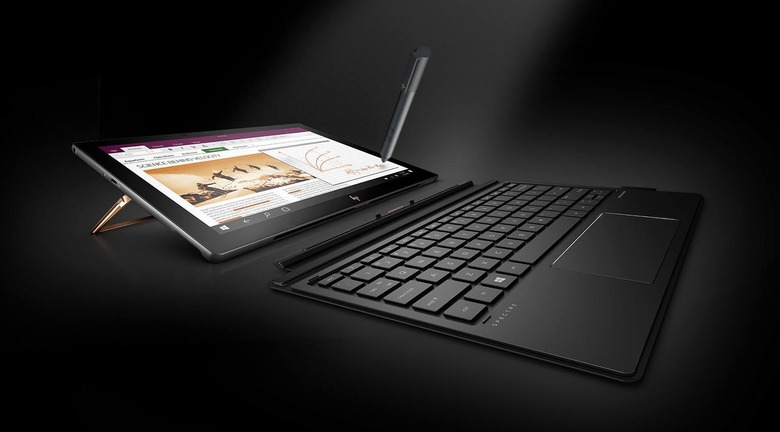 HP announced the 2017 refresh of the HP Spectre x2 without much fuss or fanfare, lumping it with other new 2017 models of its other product lines. It is, however, perhaps the most underestimated of this group. Calling it a refresh does it no justice, almost mirroring Microsoft's attitude towards the new Surface Pro. In reality, however, this might as well have been called the Spectre x3.
HP has bumped up almost everything without bumping up the size, at least not too much. While still at 12 inches, it now offers a staggering 3000x2000 pixels, higher than even that of the Surface Pro. At its top configuration, it matches that new Microsoft flagship blow for blow: Intel Core i7, 16 GB of RAM, and 1 TB of SSD. But unlike the Surface Pro, it uses USB-C. Two, in fact, just like its predecessor.
There is a price to pay for all that power. It's by far the bulkiest and heaviest of the group. Perhaps not really by much, though HP hasn't divulged how much the tablet itself weighs. But whereas most of its rivals are trying to cut down on active cooling, the Spectre x2 2017 actually has 2 fans inside. That should help with thermal issues and throttling but does add to the battery drain. The Price for the top tier might also be one of the highest, but that would already include the N-Trig powered pen and keyboard in the box.
• CPU: 7th gen Intel Core i5/i7 (optional Iris Pro graphics)• RAM: 16 GB• Storage: 1 TB• Display: 12.3-inch 3000x2000 LCD IPS• USB: 2 x USB-C• Battery: 8 hrs• Pen: Yes, N-Trig (Included)• Keyboard: Yes (Included)• Dimensions: 294 x 207 x 7.7 (tablet only)• Weight: 1,140 kg (tablet and keyboard)• Price: starts at $999
Huawei MateBook E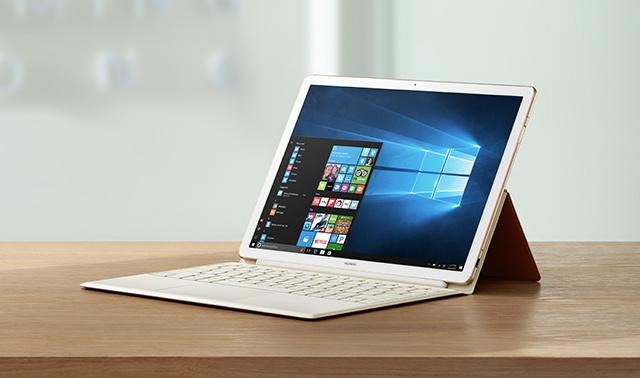 Huawei is a latecomer to the Windows 2-in-1 party, and its first MateBook shows how green it is. Fortunately, it isn't one to give up after the first try. It has expanded the MateBook brand to three new devices, and the 2-in-1 MateBook E aims to correct much of its predecessor's flaws, while making some rather big claims for itself.
In terms of specs, the MateBook E is more a direct rival of the Samsung Galaxy Book 12 rather than the Surface Pro. It has the same 7th gen Core i5 at its highest, with 8 GB of RAM, and the same 12-inch 2160x1440 screen, albeit not an AMOLED one. Although it only has room for one USB-C port, it does trump the Galaxy Book in some other areas, like having a 512 GB SSD option and a fingerprint sensor on the volume rocker button.
The MateBook E's biggest appeal, however, will be its relatively diminutive size. Huawei boasts of is 6.9 mm profile and 640 g weight. It is, in effect, pitting itself against the 12.9-inch iPad Pro, which is slightly larger in size as well as weight. It does, however, raise the question of thermal management, as there is most likely no room for active cooling. If Hauwei managed to pull that off without a hitch, the MateBook will certainly be the lightest and thinnest 2-in-1 so far.
• CPU: 7th gen Intel Core m3/i5• RAM: 4/8 GB• Storage: 128/256/512 GB• Display: 12-inch 2160x1440 LCD IPS• USB: 1 x USB-C• Battery: 4,430 mAh• Pen: Yes, Wacom (Separate)• Keyboard: Yes (Included)• Dimensions: 278.8 x 194.1 x 6.9 mm (tablet only)• Weight: 640 g (tablet only), 1,100 g (tablet and keyboard)• Price: TBA (Estimated $1,455)
Chuwi SurBook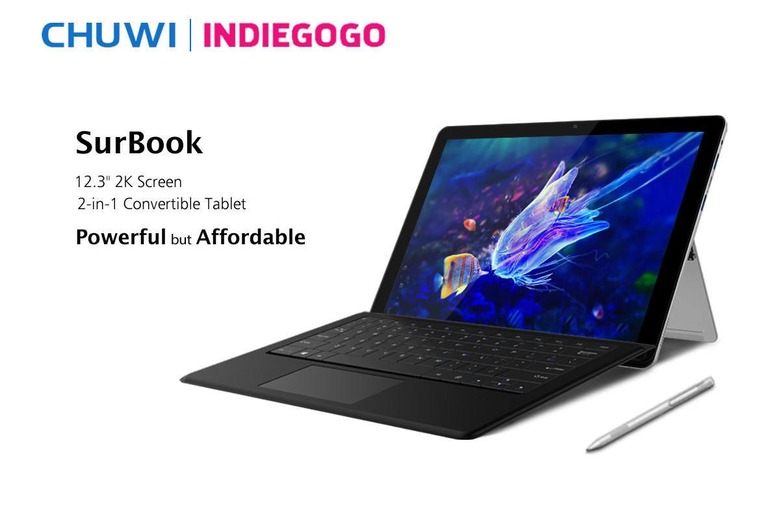 "Best" might not always mean the same things to everyone. It definitely doesn't always mean having the top of the line things. It usually means having the best of what your money can buy, and money isn't always infinite. When you're willing to cut a few corners but still need something quite usable, then Chuwi's newly minted SurBook might be worth a look.
Sure, it's not going to win this race in term of performance and more, even against the Galaxy Book 10.6's Core m3. Running the show is a Celeron N3450 (Atom) and you also have the same 128 GB eMMC. It's also not the most carry-friendly at nearly a kilo.
In other areas, however, it is just as competitive and even better than its rivals. It has 6 GB of RAM, more than what Samsung was willing to put in the lower end Galaxy Book. It boasts of the same screen density as the Surface Pro, with a 12.3-inch 2736x1824 display, though definitely not the same screen tech. It has three, yes three, USB ports, one USB-C and two regular USB ports. And the clincher is that it costs less than $500, including the pressure sensitive pen and the keyboard cover. Chuwi is running an Indiegogo campaign for discounts, but slots are extremely limited, so better fly over there if you're interested.
• CPU: Intel Celeron N3450• RAM: 6 GB• Storage: 64/128 GB eMMC• Display: 12.3-inch 2736x1824 LCD TFT• USB: 1 x USB-C, 2 x USB 3.0• Battery: 10,000 mAh• Pen: Yes (Included)• Keyboard: Yes (Included)• Dimensions: 297.8 x 203.3 x 9.4 mm• Weight: 967 g• Price: $473/$498
Wrap-up
So which Windows 10 2-in-1 tablet is the best? You'll hate the answer but it doesn't make it less true. "It depends". But we can probably whittle the choice down to three.
Best in performance: HP Spectre x2 (2017)
Sorry Microsoft, it seems that HP has learned its lessons quite well. The 2017 HP Spectre x2 has just the right mix of power and versatility that trumps even the new Microsoft Surface Pro. And it throws in the pen and the keyboard in the price tag, too. If you're looking for power, this is the one to beat. But, be prepared to also always be looking for a power outlet.
Best in mobility: Huawei MateBook E
If you were looking for a Windows 10 counterpart of the iPad Pro, then the Huawei MateBook E just answered your prayers. Presuming heat won't be a problem given how thin it is, this slate offers the best compromise between power and portability. You are giving up one USB-C port you might have ad and you will need to buy the pen separately, but, hey, that's why they call it a compromise.
Best in price: Chuwi SurBook
Hands down, this is the cheapest of all, but mind that you do get what you pay for. That's not to say it will totally stink. The Celeron N3450 still beats the now outdated Atom x5 and x7 you'll still see in some budget-friendly Windows tablets (like the Lenovo Yoga Book) so it might not be a complete dealbreaker. Considering what some have been able to accomplish even on barely powered older Atoms, you will definitely be able to get work done on the Chuwi SurBook. Unless your work happens to involve editing videos, creating hi-res multi-layer digital paintings, or playing Triple-A games.