Thanko MP4 Multimedia Watch Plays It All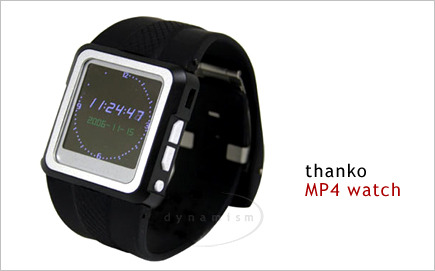 Introducing my favorite gadget; the MP4 watch. Made by Thanko, the MP4 watch sits comfortably on your wrist, and like the title suggest, it plays all your mp4 video files and more. An mp4 watch should come as no surprise since they've been around or mostly in concept, but this watch caught my eye because of its design. The Thanko MP4 watch has a 4 X 4 cm screen with excellent resolution and the most impressive spec is the 2gb of internal storage capacity. The 2gb storage should come in handy for those graduation videos that you value and the excursion videos we love to brag about.
For all you music lovers it also stores and plays mp3s. Additional features include voice memos, which are saved in mp3 format, so it's excellent for listing to your music files and important audio. If someone ever doubts you just say you have it on video or on audio and they will deny it. Then, flip your wrist and play your music or video file as proof. The MP4 watch is also compatible with pictures files so you can store and view your photos and did I mention the most important function; it displays the time. There are two version of Thanko's MP4 watch, the 1gb for $189.00 and the 2gb for $249.00 Does an alarm clock function matter when you have a multimedia viewer on your wrist? I don't think so.
Price: 1gb $189 and 2gb $249
Thanko's MP4 Multimedia Watch [Via: Dynamism.com]