Thanko HDDV-506 Camcorder Features Swivel Lens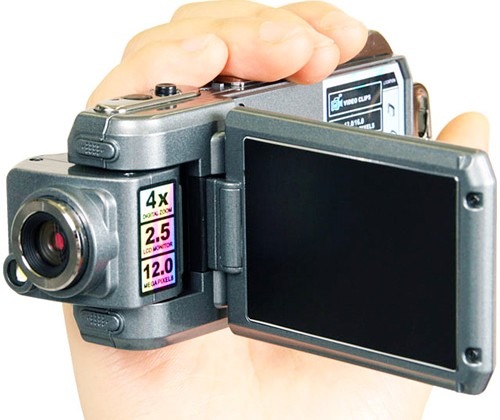 Fortunately for cameras and camcorders out there, the price tag doesn't necessarily mean you're getting terrible features, if you're not finding yourself paying a month's paycheck in one sitting. For example, while it may not be the most attractive, or have plenty of features that may shove it to the top of the hill, but it's not terrible, either. Plus, it's got a swiveling lens — how cool is that, right?
Thanko's latest endeavor into the camcorder market is the HDDV-506. As we just mentioned, it's got a swiveling lens, which means you don't necessarily have to turn the whole camera in one direction to catch the action. It can capture video up to 1080p HD at 30 frames per second. You do have the option to drop the resolution down to 320x240 QVGA, though, which will give you the ability to shoot video at up to 120fps, and even include some slo-mo scenarios. There's also a 5MP sensor, which means you should get still images at a decent resolution.
There's 32MB of on board memory out of the box, so you'll have to have an external memory card to make sure you can capture anything worthwhile. It does support SDHC cards up to 32GB. It also has an HDMI out port. The price isn't as bad as you might expect: for only 14,800 yen, or about $175, you can get your hands on this guy. Any takers?
[via Akihabara News]