Texas Instruments 4.5-amp lithium-ion battery charging circuit cuts charge time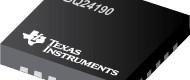 Texas Instruments is a major technology company that develops chips and internal components for a variety of gadgets and electronic devices on the market today. The company has announced a new lithium-ion battery charger and integrated circuit that promises significantly faster charging compared to other solutions on the market today. The new Texas Instruments product is the bq2419x family of 4.5-amp output, 20-V input-rated switch-mode chargers.
The new integrated circuit has an I2C interface and supports USB OTG. Texas Instruments promises that its new integrated circuit not only delivers faster charging, but delivers cooler charging to a wide range of products including power banks and packs, 4G LTE routers, Wi-Fi speakers, portable medical devices, smartphones, tablets, and more. TI says that its new integrated circuit will reduce charge time by 50% for smartphones and tablets compared to other charging solutions.
The new integrated circuit has a 4.5-amp output and a 20-volt input. The integrated circuit has a unique battery pack with impedance compensation that enables significantly reduced charging time. The solution also achieves 92% efficiency at 2 A and up to 90% efficiency at four amps output current.
The new integrated circuit also has a programmable thermal regulation temperature allowing designers to improve their system-level design. The circuit also promises the industry's lowest on-resistance of 12 milliohms to extend the battery runtime. The circuit is also designed to prevent overcharging and it's very small with TI saying it is the smallest and most integrated battery charging solution available with its feature set measuring 4 mm x 4 mm. There's no indication of when products using this new integrated circuit will come to market.
[via TI]