Tesla To Accelerate Rollout Of Supercharger Network In Germany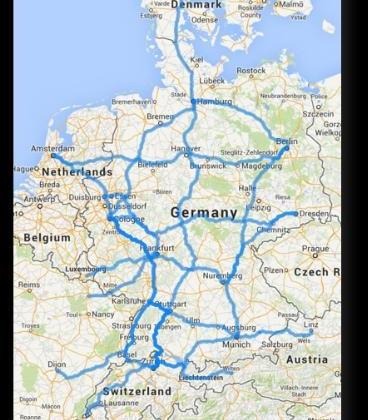 Tesla CEO Elon Musk recently traveled to Germany where he talked about accelerating the rollout of the Tesla supercharger electric vehicle charging network around the country. Tesla has already rolled out its supercharger network in some areas of the US and is targeting five-minute recharges for its Model S electric vehicle. The announcement comes as deliveries for the Tesla Model S in Germany begin to increase.
Musk said that within the next month Tesla would break ground in locations for Supercharger stations in driving corridors between Munich and Stuttgart, Munich and Zürich, Switzerland, and Cologne and Frankfurt. Tesla plans to quickly expand to include routes that run between Frankfurt and Stuttgart and Stuttgart and Zürich.
By the end of March 2014, Tesla plans to have more than 50% of Germany covered by the Tesla Supercharger network. Tesla plans to cover the entire country by the middle of 2014. Tesla predicts by the end of 2014 Germany will have more Superchargers per capita than any other country in the world.
All of the supercharger stations installed in Germany will be upgraded to 135 kW to facilitate faster free charging and long-distance travel. Tesla also specifically said that it's Supercharger network will be open to German and other automakers who design cars that can be charged at 135 kW. Tesla also announced that it will offer free optional high-speed tuning for the Model S in Germany to optimize the vehicle for driving on the autobahn. The tuning service will be offered as a retrofit for Model S vehicles that are already delivered and on the road.
SOURCE: Tesla