Tesla Model X prototype spied in California with strange sensors adorning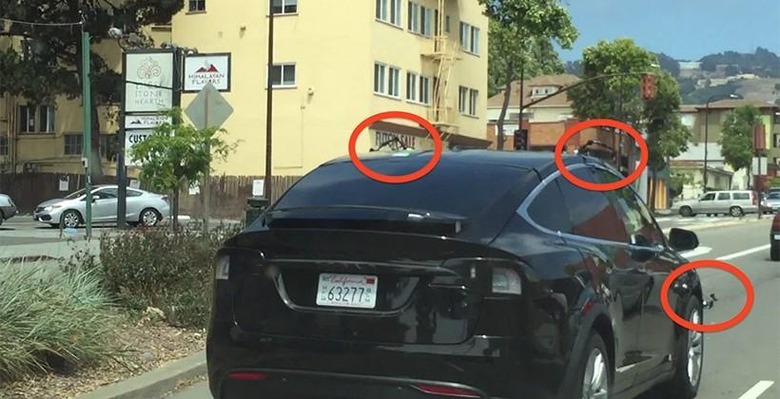 Tesla has been doing very well with its Model S electric vehicle. The Model S is one of the best selling EVs in the country and is the EV with the best driving range, it also happens to be the most expensive EV on the market right now. The next model from Tesla will be the Model X SUV and recently a prototype of that Model X was spied cruising the streets in Berkley, California.
One of the strange things that was noticed on the video of the Model X are a bunch of sensors that are suction cupped to the body of the car that haven't been seen in previous spy footage of Tesla vehicles. The Model X had weird arms sticking off the top and front bumper area of the car.
One possibility for the sensors is that they are a more advanced version of the Tesla autopilot tech. The autopilot system relies on a front camera, forward radar, and 360-degree sonar. Tesla has the bold goal of creating a self-driving car in the near future and could well be the first automaker to get a self-driving car to market commercially.
Tesla CEO Elon Musk has stated publicly that several years from now the autopilot system will be in place to allow a driver to go to sleep and wake up at their destination. The video below is a spy video shot of the Model X in question cruising down the road, check it out for yourself and see what you think the sensors are for.
SOURCE: BusinessInsider