Tesla Model S now has an all-glass roof option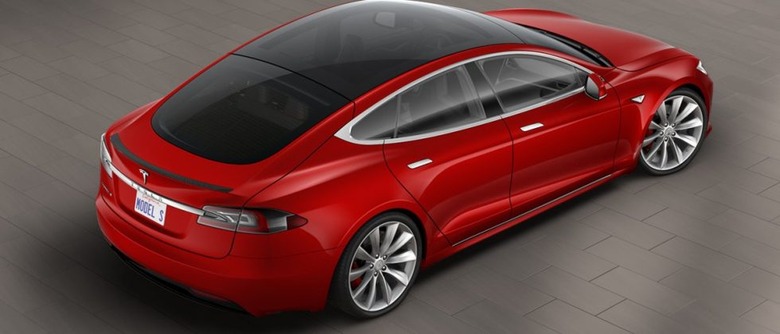 Just last week Tesla and SolarCity unveiled their new "Solar Roof" product, which is designed to cover a home's roof in small solar-powered shingles. But now the electric car company has announced a new roof option for the flagship Model S sedan, and it aims to remove all barriers to between passengers and the sky above: an all-glass roof.
The new option, which comes at an extra price of $1,500, is designed to give passengers a wide open view of the sky, as well as the feeling of "an open expansive cabin" inside the Model S. The all-glass roof even goes beyond the sedan's existing panoramic sunroof option by completely removing the center crossbar.
Tesla says their new tinted glass will block 98% of UV rays and 81% of heat, so the car's interior won't become a sweltering oven with all that exposure to the sun. The glass roof option does replace the standard sunroof, and if drivers want to add satellite radio or a roof rack, they'll need to stick with the panoramic sunroof, which costs $2,000.
Tesla's glass roof design was first showcased with the unveiling of the upcoming Model 3 sedan, which is due to arrive next year. Along with bringing the glass roof to the Model S, some of the same technology that was used to develop it went into the new Solar Roof, which relies on shingles made from pieces of glass laid over top small solar cells.