Tesla Model 3 mid range battery pack option axed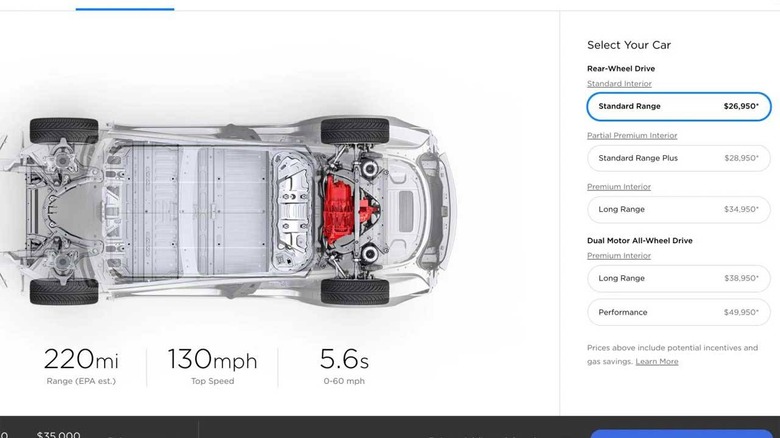 Tesla frequently makes changes to its line of EVs, and the most recent change sees a version of the Model 3 EV being discontinued. The mid-range battery pack has been discontinued after only being around since October 2018. That battery pack was launched as a way to offer cheaper versions of the Model 3, but with the long-anticipated $35,000 Model 3 now here, the mid-range option is no more.
The changes were made to Tesla's website over the weekend and can be seen in the Model 3 configurator. Tesla offers the rear-wheel drive standard range version for $26,950 after the federal tax rebate, $35,000 before.
The next step up is the rear-wheel-drive Standard Range Plus at $28,950 after the tax rebate; the long-range version is $34,950 after tax incentive.
The dual-motor all-wheel-drive version sells for $38,950 with the dual-motor performance version at $49,950. Both of those prices are with the federal tax rebate applied. Tesla intends to raise prices of its vehicles across the board to help offset costs from not shutting down as many of its retail stores as it initially said it would.
The only Tesla that won't see a 3% price increase is the base Model 3 that was long promised at the $35,000 price. The standard-range Model 3 promises 220 miles of driving range, 130mph top speed, and a 0-60 mph time of 5.6-seconds.
The long-range Model 3 has a 325-mile driving range, 140 mph top speed, and a 0-60 mph time of 5.0-seconds. With the elimination of the Model 3 mid-range in the US, the assumption is that trim is now discontinued and won't be seen in other parts of the world.