TerreStar and AT&T team up to distribute Genus satellite phone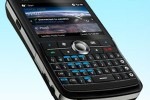 Most AT&T customers, especially those with iPhones, can relate to poor network performance, dropped calls and no available network when traveling in small and large cities alike. In some very rural areas, there isn't cellular service available at all and the only way to make mobile calls is with a satellite network. AT&T and TerreStar have announced a distribution agreement for the Genus satellite phone that will remedy the no signal problem.
TerreStar's Genus smartphone looks like any other smartphone but is capable of operating on both terrestrial 3G networks and IP satellite networks. The single device allows the user to access voice and data services in the US, Puerto Rico, and the US Virgin Islands. If the AT&T cellular network is not available, the device automatically uses the TerreStar satellite network to place calls.
The Genus phone runs Windows Mobile and has many of the features we expect on a smartphone. The device has a touchscreen, Wi-Fi, Bluetooth, GPS, and a QWERTY keyboard. Pricing and availability for the device are unknown at this time.