Terminator 2 restored 4K Blu-ray box set will include giant robot arm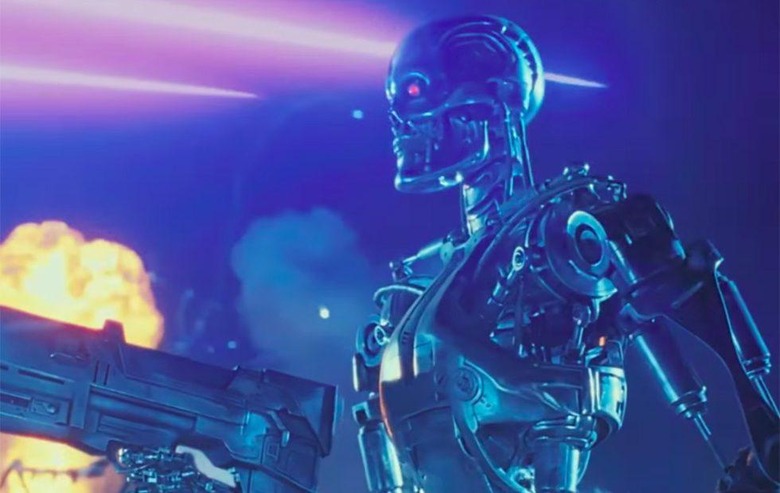 Terminator fans are in for a treat. Company StudioCanal has announced the upcoming release of a new 2D/3D Blu-ray and 4K Blu-ray of Terminator 2. That news alone isn't terribly exciting, but the special content in the box set is: there will be a life-size Terminator robot arm included with the kit. The box set is expected to arrive later on this year likely following a remastered version of the film heading to some theaters.
Terminator 2 remains the most beloved installment in the Terminator franchise, and its enduring existence across new mediums and formats proves this. The movie has already been brought to Blu-ray in the past, but this time around it'll be in Ultra HD definition and/or in 3D, depending on the iteration you buy.
The movie has been remastered and will be heading to theaters throughout the UK starting next month; StudioCanal anticipates offering its special box set later on this year, but whether it will coincide with the theatrical re-release is unclear. If you've never seen the movie in remastered 4K quality, check out the trailer below — be sure to bump YouTube's resolution up to the max if it's not that way upon playing.
The box set, meanwhile, will feature the new 4K restoration of the film, as well as the 3D remaster, though you'll need a 3D television to enjoy it. The set will also include the 'T2: Reprogramming The Terminator' documentary and a pair of feature commentaries, one with James Cameron and William Wisher, the other with 23 cast and crew members. There will also be 'The making of T2' from 1993.
That's not the end of it, though. The kit will feature a 'seamless branching' of the special extended movie cut, the director's cut, and the theatrical cut, plus a pair of deleted scenes with accompanying audio commentary. A new 3D version of the T2 trailer will be included alongside the movies, plus the original legacy trailers.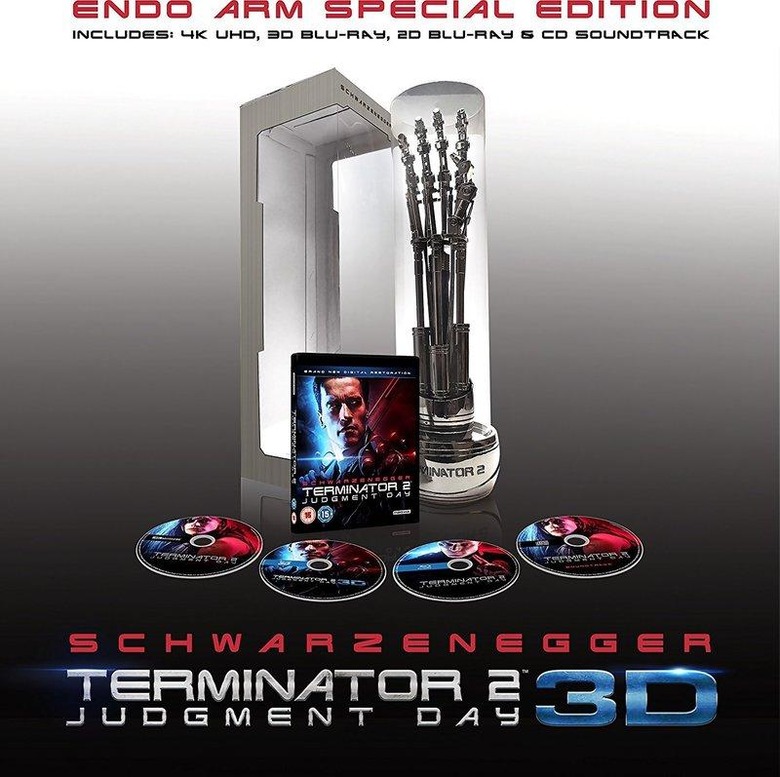 If you're a mega-fan, there's also going to be the Endo Arm Special Edition, a kit that will have a 2D copy of the movie, a 3D copy of the Blu-ray, a 4K Ultra HD copy, and a CD soundtrack, plus the collectible Terminator robot arm in a special case. Price is unclear.
SOURCE: Blu-ray