Techsol unveils cool TPC-43C medallion touch screen computer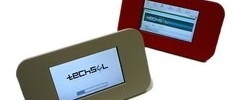 If you are one of the really green types always looking to reduce your carbon footprint but you also like gadgets, Techsol has a new device for you. The new Techsol TPC-43C Medallion Green Tech touch panel computer is now available. The system has a color TFT LCD and power-over Internet. The system is aimed at home automation and HMI applications.
The color screen of the computer is a 4.3-inch TFT unit with a resolution of 480 x 272. The system is designed for landscape installations and the screen has 65K colors with LED backlighting. The machine is powered by an ARM9 processor with 32kB of cache and 64MB of SDRAM. The OS is Linux, which is pre-installed.
Storage for the machine is to 128MB of NAND flash. Installation costs for the system are reduced thanks to the Power-Over-Ethernet capability of the device. A single CAT5 cable powers the computer and provides connectivity. A hidden SD card reader is integrated and expansion for WiFi and Bluetooth is supported. Overall dimensions are 7" high x 3.9" thick x 0.4" from the wall. The little screen sells for $425 each but has to be ordered in packs of 10.