Teal Drone looks to push limits with high speed and modular design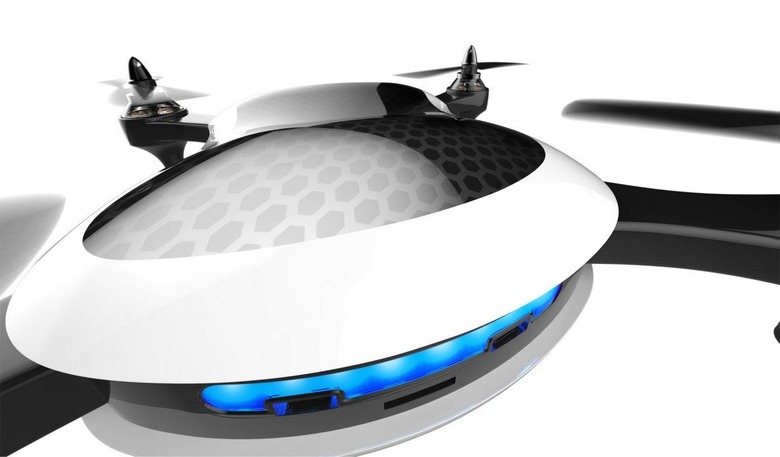 Drones are becoming more and more commonplace in every day life, and for someone who knows what they want out of a drone, there are plenty of options to choose from. From racing to aerial photography, drones are capable of doing quite a bit. But what about the person who knows they want a drone but doesn't know what they want to do with that drone? The Teal drone has just come racing onto the scene trying to solve that very problem.
While Teal is capable of zooming through the air at speeds that exceed 70 MPH, it seems that the more attractive feature will be its modular nature. On its website, Teal promises to be "totally upgradable and expandable," giving owners the opportunity to use their drone for different applications. Teal is also aiming to be a development platform, as its creators will be releasing an SDK, which will allow anyone to make different apps for the drone, hopefully unlocking its potential as a jack-of-all-trades.
Not only that, but Teal will come running its own operating system, aptly named Teal OS, which will facilitate the development of these apps. Teal is powered by a NVIDIA TX1, allowing it to handle features like autonomous flight and image recognition on board. The promise of Teal seems to be based around the OS and that NVIDIA TX1, as those two should allow developers to make a wide range of apps that allow the drone to adapt to the needs of individual users.
In addition to achieving top speeds of over 70 MPH, Teal can also remain stable in winds of up to 40 MPH. If all of this sounds too good to be true, there is one draw back, in that the battery included with Teal will only grant 10 minutes of flight time. The drone will be shipping with two of these "high performance batteries," and if owners want to increase flight time without having to continuously swap out batteries every 10 minutes, they can opt to buy a larger "high endurance battery" that offers 20 minutes of flight time.
Teal is available for pre-order right now and comes with a price tag of $1299. The first 500 people who pre-order a Teal will get a Signature Series drone, which is shipping out earlier and comes with a free Endurance Package. If you're one of the first 500, you can expect your Teal to arrive before Christmas 2016, while everyone else who pre-orders the drone will get it early next year.