Teac releases Ipod Companion with Digital Amp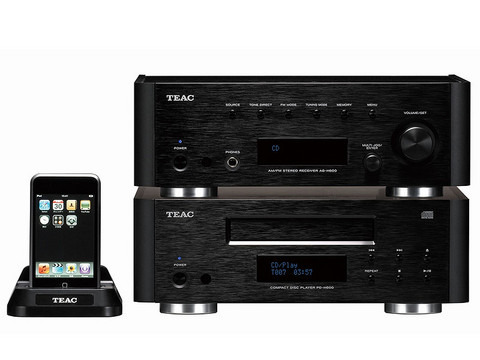 Whether it is just an Ipod companion or a set of bookshelf speakers from the Teac, an entry model from the high end line of TEAC usually means unaffordable for most of the music lovers. You can say the same for the newly announced TEAC Reference 600 series AG-H600 – a 126,000 yen (~$1,300) integrated digital amp designed exclusively for Ipod.
The TEAC comes with an Ipod dock that can charge your Ipod as they play. It supports 4th gen Ipod, nano, classic, touch but only works partially on the Iphone 3G. Being an Integrated amp, the unit has three set of analogue audio inputs and can play your favorite AM/FM channels. Videos are only supported via Ipod playback, which also accounts for the sole digital input. The digital amplifier delivers 75/90 watts of class D power with both channels driven into 8 or 4 ohm-speaker configuration.
Also announced is a companion stereo CD player that can read redbook CD, CD-R/RW and support digital media format like MP3 and WMA. The PD-H600 cost exactly the same as the Integrated amp.
Both units are constructed with aluminum chassis with high-rigidity structure and powered by a large toroid power transformer. Just like the rest of TEAC family , you can expect only selected professional audio components are being used in the circuitry design. The set of TEAC will set you back for $2,600 and is slated to be released in December.