TDK unveils quartet of new Life On Record speakers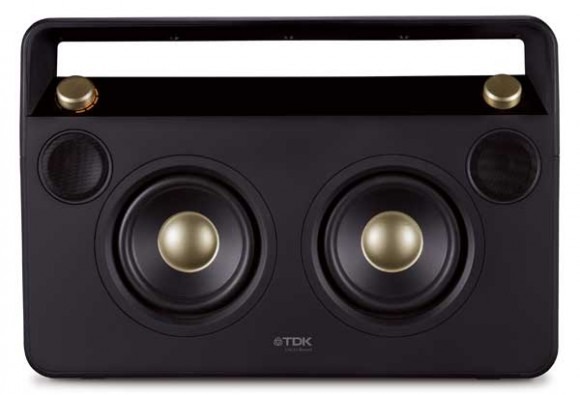 Back in the day TDK was one of the big names in blank cassette tapes used for recording songs. I'm sure anyone that grew up in the 80s had a bunch of these tapes laying around the house with their favorite songs recorded in dubious quality. Now that cassette tapes are a thing of the past, TDK has made the switch to digital media and other devices for its product mix such as the company's new line of Life on Record audio products.
TDK has announced that the Life on Record products now feature Bluetooth technology allowing wireless audio for portable devices on the go. One of the more interesting products looks like a modern 80s boombox fittingly called the Life on Record Wireless Boombox. It supports wireless streaming with Bluetooth 2.1, has an integrated rechargeable battery, 2.1 stereo configuration, and an integrated FM tuner. It also comes with remote control and has a 3.5 mm input. The device sells for $399.95.
The next product is the Life on Record Wireless Weatherproof Speaker. This device looks more like a sound bar for a notebook computer but is made to be able to survive spills and rain on the go. It features Bluetooth 2.1, an integrated rechargeable battery, and has a weatherized design that is IP64 compliant. It also has an integrated microphone and a 3.5 mm stereo input it will sell for $249.95.
The Wireless Sound Cube has a different shape than the other devices, but shares most of the same features, including Bluetooth, adjustable equalization, an auxiliary input, and remote control. It will sell for $299.95. One of the other products is the Wireless Charging Cube selling for $399.95. This device and is a speaker cube with integrated Bluetooth but also has a Qi induction charging pad on the top. That means you can lay your compatible smartphone or other device on top to charge while you listen to music. It is also weatherized with an IPX3 compliant design.