Tamron Intros Ultra-Wide Angle Zoom Lens SP AF 10-24mm F/3.5-4.5 Di II LD Aspherical (IF)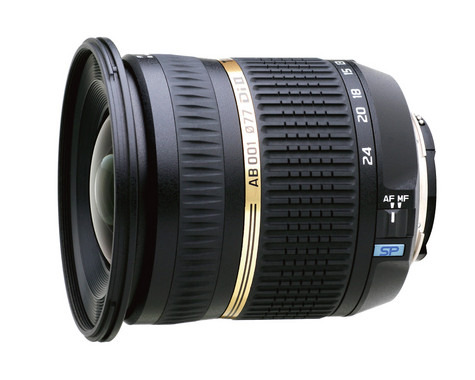 Tamron Japan announced its latest ultra-wide angle zoom lens designed for reduced frame APC-Sized sensor Digital SLR. The SP AF 10-24mm f/3.5-4.5 Di II LD Aspherical (IF) lens will replace the 3-year old SP AF 11-18mm F4.5-5.6 Di II LD wide-angle lens featuring an unprecedented 2.4x zoom ratio for APC-Sized sensor Digital SLR.
The extra 0.4x zoom ratio resulted in an additional 4mm zoom distance at the tele-end, makes it a more favorable ultra-wide angle lens choice compare to its rivals like Canon or Sigma 10-20mm. On the other hand, it lacks the AF-motor which is a necessity for bodies without an in-built AF motor like Nikon D40/D60 to maintain the autofocus function. Word of advice, don't buy any Digital SLR without a built-in AF motor!
The new Tamron covers the 35mm full-size format equivalent of 16-37mm and employs high-precision, low dispersion and high-refractive index glass elements to minimize spherical aberration, chromatic aberrations , coma effect and image distortion.
Like most APC sensor lens, the tamron 10-24mm is lightweight and ultra compact at 14.3oz. The lens will be available later this month for Canon and Nikon, with the price to be announced. Pentax and Sony models will be introduced later.
[via DPR]