Taiwan Tower In Taichung Features Helium Balloons Instead Of Elevators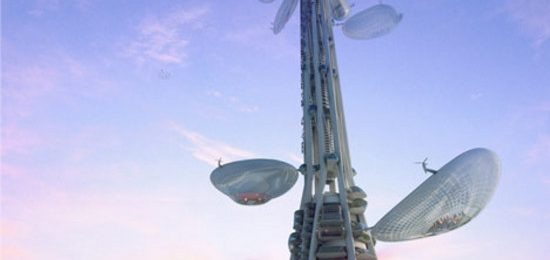 The Taiwan Tower may look like a concept right now, but it won't for long. This is one concept that, just as it was being drawn up and planned, had already been given the green light to be built into the real world. The Taiwan Tower, which will be built in Taichung in the near future, will not only be the tallest building in that particular city, but it will also substitute elevators for something completely unorthodox: balloons.
The tower will stand 984 feet, which will officially make it the tallest building in the city. The designers must have decided at some point that getting to one of the restaurants in this tower wouldn't be awesome enough if patrons had to do it on an elevator, so instead helium-filled balloons, that will be powered by propellers have been decided upon instead.
And, just like any modern tower, there's not going to just be apartments and condos in there. The designers have included spaces for museums, restaurants, and conference centers. And while this is just a concept image, above, the final design is said to be close to this. Construction is set to kick off in 2012.
[via DVICE]