TAG Heuer MERIDIIST mobile phone uses Lamborghini design elements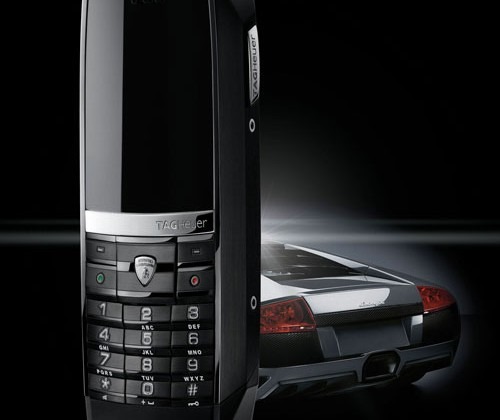 Most of us are after mobile phones that offer the features we want to keep us entertained and working. For normal geeks that means we look to feature packed devices like the sexy new Motorola DROID. For the wealthy user often form comes before function and this type of user wants a phone that looks good. For the well-heeled mobile phone fan TAG Heuer has a new mobile phone called the MERIDIIST Automobili Lamborghini phone.
The handset is housed in 316L stainless steel covered in black titanium carbide. The device is built with design cues from the Lamborghini Murcielago LP 640 super car. Each phone is engraved on the back with its limited edition number and the keyboard has the Lamborghini trademark bull logo.
The crystal of the device is made from 60.5 carats of scratch-resistant sapphire crystal. Battery life is promised to be seven hours of talk time and 28 days on standby. Other features include a backlit stainless steel keypad, 2MP camera, audio playback capability, and dual LCD screens. The top screen is an OLED with a resolution of 96 x 16 and the front screen is 1.9-inches with a 240 x 320 resolution. The device supports MMS, SMS, WAP browsing, PC sync, and worldwide GSM/GPRS networks. Pricing is unknown, but you know what they say about if you have to ask. It will be sold through select Lamborghini and TAG Heuer retailers.