TAG Heuer Carrera Wearable 01 aims to be upgradeable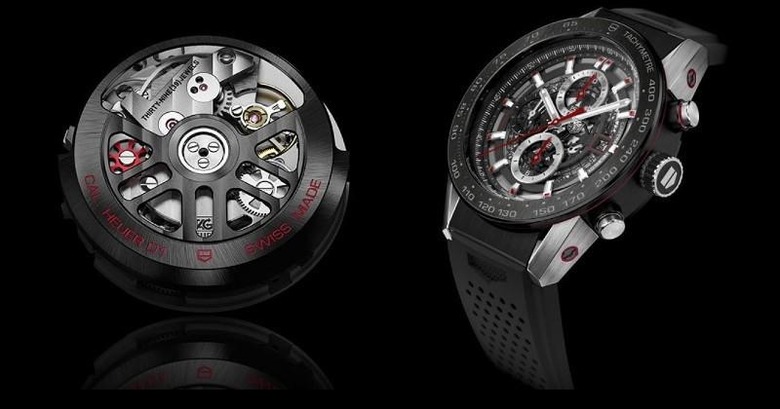 You definitely won't be able to fault TAG Heuer for not dreaming big, especially in an age when the future of luxury watch brands is being put under the spotlight. It has just revealed the name of its first smartwatch, itself a rather ambitious undertaking. The Tag Heuer Carrera Wearable 01 is so named because of its relation to the non-smart Carrera 01 luxury timepiece. But more than its Swiss roots, this smartwatch is poised to become the industry's first ever upgradeable smartwatch, ensuring the same longevity of both its analog and digital timepieces.
Granted, there is no substantial threat to real smartwatches, at least not yet. Smartwatches are still somewhat of a novelty, and in some cases a legal liability. Watch makers, however, are starting to feel the pressure, and some are taking rather different paths to solve the same concern.
For TAG Heuer in particular, the problem was exacerbated by the desire to make such a smartwatch "Swiss Made", meaning that more than half of the watch needs to be of Swiss origin. At the same time, however, it admits that it doesn't have the expertise to develop the "smart" part of a smartwatch, and neither does Switzerland in general. As a compromise, it has partnered with Silicon Valley giants, specifically Google and Intel, to take care of that part of the device while it handles the design of the watch itself.
For quite some time now, it was speculated that its first smartwatch would be patterned after the Carrera, and now TAG Heuer is making it official. It will even be called Carrera Wearable 01. The similarities in name isn't accidental or just marketing. CEO Jean-Claude Biver claims that, at least from a distance, the Carrera 01, pictured above, and Carrera Wearable 01 should be indistinguishable. How it will manage to pull that off on a smartwatch is something that remains to be seen.
Another interesting feature would be the promise of an upgradeable smartwatch. Real watches, especially luxury ones, last a lifetime. Smartwatches, on the other hand, seem to last only as long as smartphones, which usually have a 2-year life cycle. That definitely won't sit well with TAG Heuer. The goal is to be able to "change the technology but keep the watch elements". At the moment, that all sounds rather vague, if not dreamy, but if TAG Heuer, Google, and Intel manage to pull it off, it could very well give birth to a new breed of smartwatches that are more enticing than the current generation.
VIA: Wareable