Taco Bell offers PlayStation Vita in pre-release sweepstakes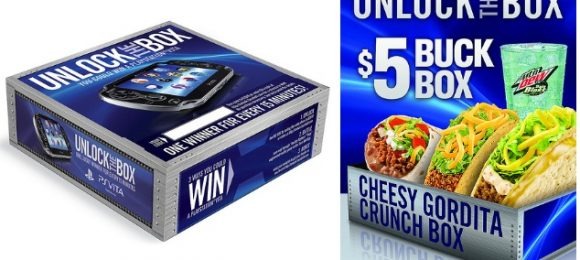 If you can't wait until February 22 to get your hands on Sony's newest portable gaming device, you'll need to set aside some extra time for the bathroom. Your shot at winning a pre-release PlayStation Vita is at the same place where you can buy Fritos-filled burritos. Sony's new partnership with Taco Bell follows the storied tradition of fast food/video game enterprises – we're talking about Burger King Xbox 360 games, Nintendo Zone hotspots at McDonald's, and Kinect promotions at, again, Burger King.
So here's the nitty gritty. If you want to enter, you'll need to buy a 5 Buck Box, which as everyone knows includes a Cheesy Gordita Crunch, Burrito Supreme, Crunchy Taco, and a medium drink. On the packaging of your box of meaty goodness, there will be a code that you can enter at unlock.tacobell.com. The first winners will start receiving their Vitas around February 8.
The Taco Bell partnership goes beyond the sweepstakes deal. The two companies also worked together to created an Augmented Reality game on Android and iOS called Reality Fighters Dojo. It's a basic fighting game app. As for the contest, winners not only receive a Vita unit but also a 4 GB memory card and a free game. The contest runs until March so even if you still want a Vita after it hits stores, and you have a rumbly in your tummy, you can still win.
[via PlayStation Blog]