Tachyon XC and XC 3D helmet cams now shipping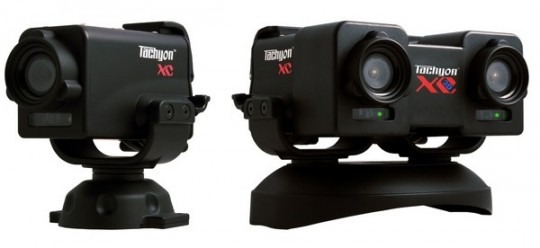 I like some motorsports, but I particularly like to watch people on their motorcycles and in the cars doing stupid things on the street like trying to race a $500,000 Ferrari in a hopped up Honda Civic with a culvert for an exhaust tip. The downside is that the video of this sort of shenanigans is usually junk.
If you want to be able to record your self doing something you think the whole world needs to see the Tachyon XC and XC 3D are the cams you need. The cameras are the same with the exception that the 3D model actually has two cameras and looks like the stunt double for Johnny 5. The normal XC single cam sells for $180 and gets its juice from AA batteries and stores to a SDHC card.
The 3D version has a pair of the same cams I n one enclosure and sells for $380. The 3D version also ships with the software needed to create the 3D film along with those fantastic blue and red 3D glasses. The cameras were announced a while back, but are now officially shipping. The cameras are designed to be mounted to a helmet, dash, or headgear.