T-Mobile outs Samsung LTE Mobile HotSpot PRO with a few cool features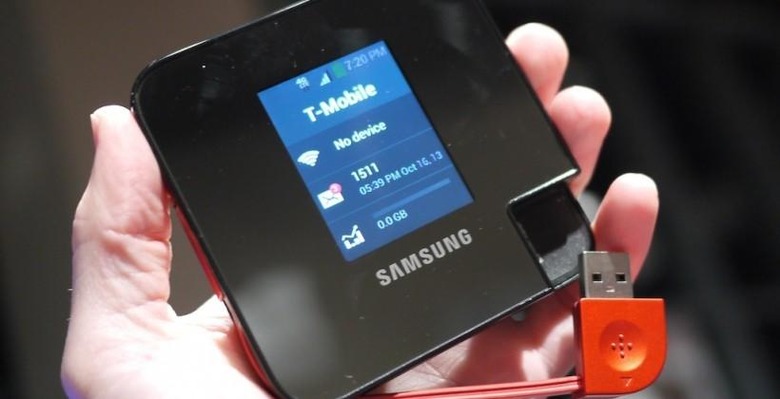 T-Mobile has just launched a new device that will allow its subscribers to share their fast 4G LTE connection with family and friends. But don't be deceived by its name as the Samsung LTE Mobile HotSpot PRO is more than just your average mobile hotspot and is, in fact, something all road warriors might want to have in their arsenal.
As far as hardware goes, the Samsung LTE Mobile HotSpot PRO sounds just like your run of the mill mobile hotspot, though in an admittedly rather strange square package. Lightweight and compact, the device is just 3.53 in x 3.53 in x 0.52 in and weighs only 5.11 ounces, roughly 0.32 lbs. Its 3100 mAh battery is advertised to last 24 days on standby. And, naturally, it is compatible with 4G LTE networks and has both WiFi and USB connectivity.
But this mobile hotspot is also a computer on its own, running on an unnamed 1.2 GHz processor and 512 MB or RAM with 4 GB of internal storage. It even has a a microSD slot for added storage capacity. All these features are there because the Mobile HotSpot PRO isn't just meant to connect you to the Internet, it will also connect you and your friends to each other and to your files.
The Samsung LTE Mobile HotSpot PRO allows up to 10 Internet devices to be connected to it. The storage capacity functions as more than just data storage as it can actually share and sync those files through USB or over WiFi to those connected devices. And as a bonus, this little gadget features bidirectional charging. That means that while you could normally charge the hotspot's battery, the device itself can also act as a mobile charger for smartphones and other devices.
The Samsung LTE Mobile HotSpot PRO is now available from T-Mobile for a full price of $169.99, or $49.99 up front plus $5 for 24 months. New purchases will also require a SIM Starter Kit that will cost you an additional $10.
SOURCE: T-Mobile