T-Mobile Galaxy Note II on sale (for $70 more than AT&T wants)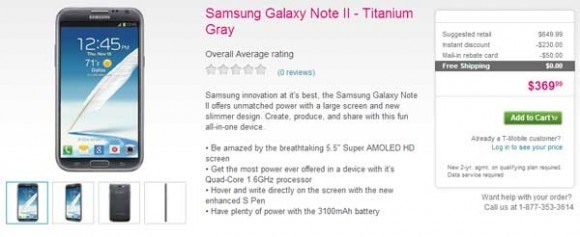 T-Mobile has announced that it will be offering the Samsung Galaxy Note II on its network. You can order up the device today if you're willing to pay nearly $70 more than you can get the same exact phone for on the AT&T network. T-Mobile will offer the device in gray or white colors for $369.99.
By comparison, AT&T is offering the Galaxy Note II for $299.99 with the same two-year agreement. Another bit of bad news about the $369.99 price tag for the device at T-Mobile is that it includes a $50 mail-in rebate. That means when you're rolling in the T-Mobile store to buy one of these, you're actually going to pay $419.99 and then wait for 6 to 8 weeks for your $50 to come back in the mail.
If you're a big enough fan of the T-Mobile network that paying more doesn't bother you, you can order the device up today, and it offers the same features that the Note II has on the other networks. Those features include Android 4.1 for the operating system, a quad-core 1.6 GHz processor, and the 5.5-inch HD Super AMOLED display.
The phone/tablet has a full HD resolution camcorder, 16 GB of integrated memory along with a microSD slot for expansion, and a 3100 mAh battery. The dimensions of the device are 5.94 x 3.16 x 0.37-inches and weighs 6.3 ounces. The tablet also features the S Pen allowing users to write directly on the screen.