T-Mobile G2x Review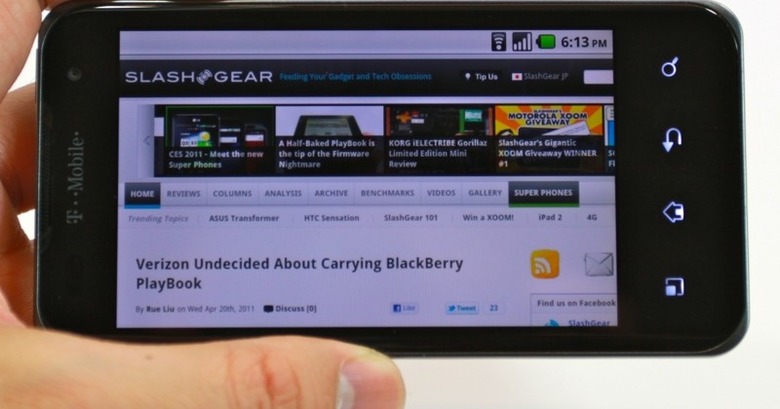 T-Mobile and LG haven't just been working on a tablet: there's also a dual-core smartphone on offer as well. The T-Mobile G2x doesn't bother with the docking accessories of AT&T's ATRIX 4G (review), instead expecting its own dual-core potential to stand on its own feet. Is this the best of a new breed of Android devices, or just a fast phone that still falls short? Check out the full SlashGear review after the cut.
Hardware
Long and lean is a good way to describe the G2x. Like its European LG Optimus 2X counterpart, it measures in at 4.88 x 2.48 x 0.43 inches and 5oz, fronted with a 4-inch WVGA TFT LCD touchscreen. The entire fascia is flush-fitting Gorilla Glass, though it does have a somewhat oversized capacitive button area at the bottom – with the usual menu, home, back and search keys – which could do with being smaller. Above the display is a 1.3-megapixel front camera while an 8-megapixel camera with autofocus and an LED flash are on the back.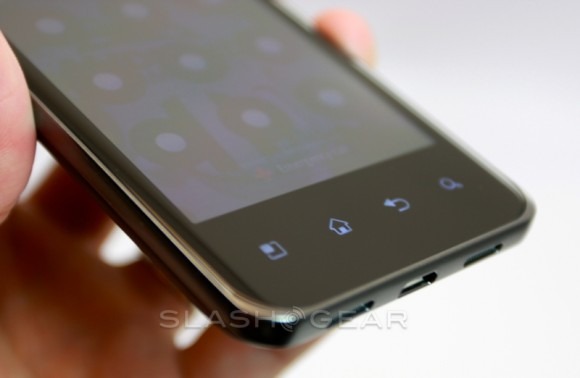 While at first glance the battery cover looks like, as with the T-Mobile G-Slate by LG, there's a flip-out kickstand, in actual fact the silver strip is merely decorative. It leads up to a protruding camera bump and bears the "with Google" legend that lets you know LG and T-Mobile have held off from tampering with the OS. Around the edges there are volume keys, a microUSB port and twin speaker grilles on the bottom, and a headphone jack and power/standby button on the top. You also get a micro HDMI port for hooking the G2x up to a TV and playing back the 1080p Full HD video Tegra 2 is capable of churning through.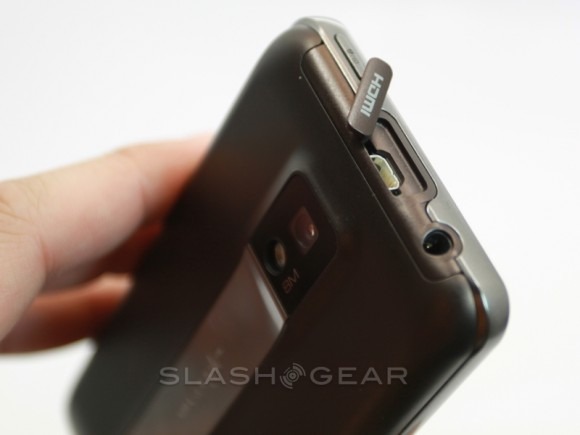 Inside there's quadband GSM and quadband HSPA+ 4G, along with WiFi b/g/n, Bluetooth 2.1+EDR and GPS.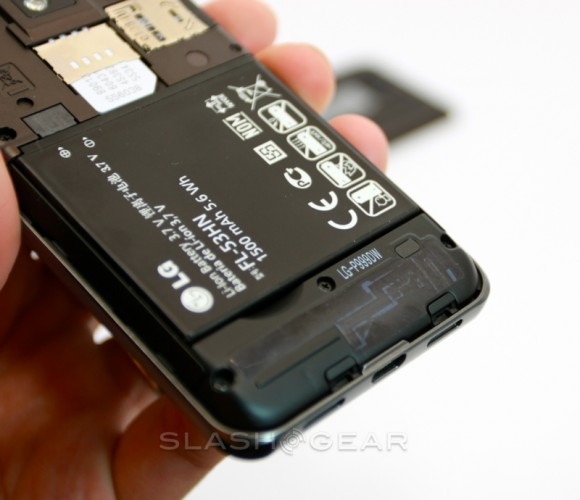 512MB of RAM and 8GB of internal storage are joined by a microSD card slot under the battery cover (though not under the battery itself). The usual arrays of sensors – accelerometer, ambient light, gyroscope, digital compass and proximity – are included.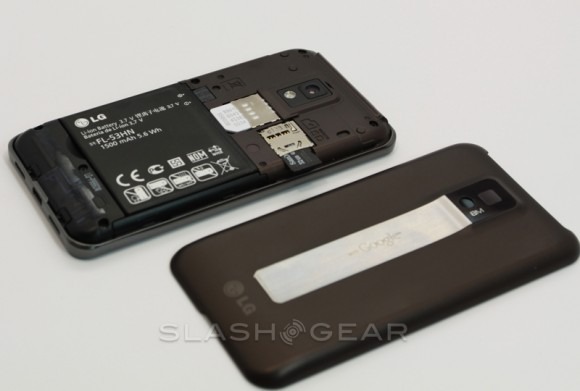 Build construction is solid, though the G2x feels overly long in the hand. Audio quality is high from the dual speakers, while the touchscreen responds swiftly and the capacitive buttons don't require the occasional double-taps we've experienced on some Android devices. We can't help but miss the ATRIX 4G's qHD resolution display, however, with its extra pixels.
Software and Performance
As we mentioned before, LG and T-Mobile have left the software alone, and put Android 2.2 Froyo in its untampered state on the handset. The lack of modification is something we invariably welcome, as it generally means faster updates later in the handset's lifecycle, but not launching the G2x with the latest Android 2.3 Gingerbread is a blip on LG's spec sheet. A Gingerbread upgrade is tipped for later on in Q2 2011, though no definitive timescale has been confirmed.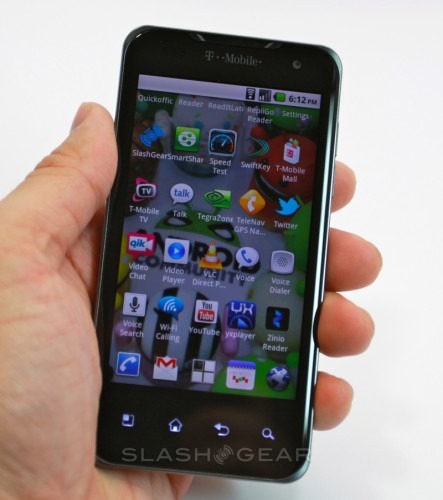 What you do get are some preloaded apps, including a demo of N.O.V.A. Near Orbit Vanguard Alliance HD and a full copy of Need for Speed SHIFT. There's also NVIDIA Tegra Zone, for highlighting the latest and greatest software designed to run best with the 1GHz dual-core chip, T-Mobile TV (which, as on the G-Slate, won't output via the HDMI port), the Zinio magazine app and Qik for two-way video calls. Considering Google is yet to release its own video-calling app for smartphones, that's a sensible inclusion.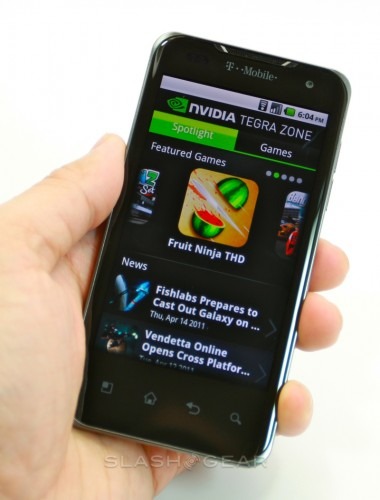 Performance from the Tegra 2 processor varies depending on which benchmarking tool you attempt to measure it with, particularly because many of them are yet to be updated to properly handle dual-core CPUs. Quadrant scored almost 2670, while Linpack spat out a result of 36.576 MFLOPS in 2.20s.
Real-world, and the T-Mobile G2x handled just about everything we asked of it. 1080p HD video played back on an external display was smooth and artifact-free, while games were responsive and showed no lag or glitches. The OS as a whole flicks past with no pauses or hiccups whatsoever.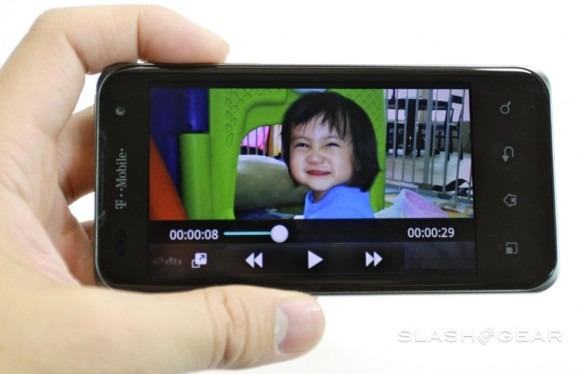 Camera
As you might expect, the front-facing camera on the G2x is really only fit for video calls and, if pressed, the occasional vanity shot. Video and stills are blurry and demand plenty of light if they're to be halfway useful. Happily the main camera is altogether more successful, with still shots showing accurate colors and exposure, if a tendency to over-processing to handle noise in lower light situations. The LED flash tries hard and is one of the better examples we've seen, though it still suffers from the usual range issues. Unfortunately there's no dedicated camera button, which given the G2x's imaging abilities seems an oversight.
Video, meanwhile, can be recorded in up to 1080p Full HD resolution, still a relative rarity on smartphones. At 24fps it's reasonably smooth but does show a tendency to over-react to lighting changes, which can mean your clip suddenly plunges into darkness as you pan. Faster movements can lead to choppiness, too. If you don't mind sacrificing some pixels in the name of slicker clips, the 720p HD mode offers a more balanced outcome.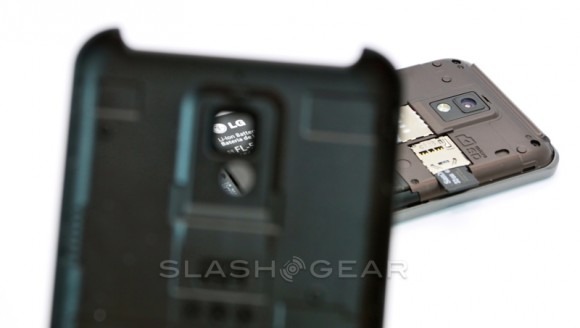 Phone and Battery
T-Mobile brands the G2x as a 4G device, since it can use the carrier's growing HSPA+ network. Unfortunately we experienced multiple issues with how the G2x handles 2G, 3G and 4G network transitions. These ranged from a general reluctance to shift from 2G to 3G/4G, to dropping calls when moving out of 4G coverage into 2G.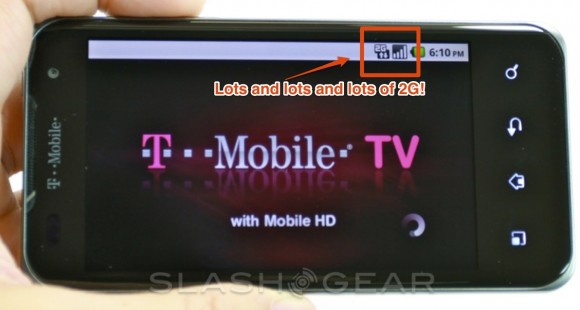 When the G2x finally decided what network it wanted to cling to, data speeds were fair but not outstanding, though obviously that will depend on what 3G or 4G coverage users have where they work and live.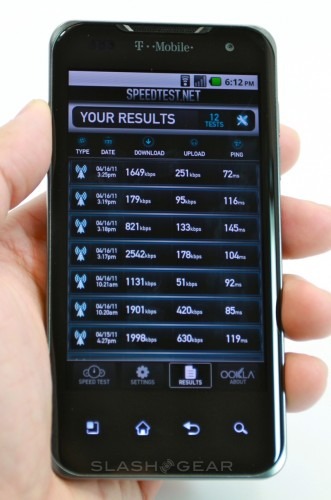 Battery life, meanwhile, is more impressive. The G2x proved capable of making it through a full day of use – with push email turned on, some browsing, messaging and video playback – on a single charge. Like all modern smartphones you'll be recharging nightly, but the G2x looks at least to bypass the mid-afternoon top-up some handsets demand.
Price and Value
At $199.99 with a new, two-year agreement, T-Mobile has priced the G2x much like any other high-end device. It goes up against the HTC-made G2 – which has a single-core processor and smaller screen, but a physical keyboard, and the Windows Phone based HTC HD7, which has a bigger display but a mediocre camera. It's also a little more expensive than the $180 Samsung Galaxy S 4G (review), which has arguably a better display but falls short when it comes to camera and processor.
Round the corner, though, is the HTC Sensation 4G, with its dual-core 1.2GHz Qualcomm processor and 4.3-inch qHD display. That will run Gingerbread out of the box and has HTC's compellingly complete Sense interface.
Wrap-Up
It's not hard to see that the T-Mobile G2x is the best Android device in the carrier's current line-up. No, it may not run Gingerbread (yet), but its unmodified OS means future updates shouldn't be delayed by unnecessary manufacturer or carrier modifications. The 8-megapixel camera and 1080p HDMI output are both useful and usable, while the design is inoffensively slick.
It's the Tegra 2 processor that's the star of the show here, though, making the G2x a suitably future-proofed handset for the increasing demands of subsequent Android updates. Where the G2x may falter is when the T-Mobile Sensation 4G arrives later in the year, with a bigger, better display and faster CPU. Still, with no solid release date for the Sensation 4G in sight, and the LG available on the market today, those in search of a capable Android smartphone could do a lot worse than the T-Mobile G2x.
T-Mobile G2x Hands-on
[vms a9f27df178b5c39a5126]