T-Mobile boosts Simple Choice Plan by doubling data allowance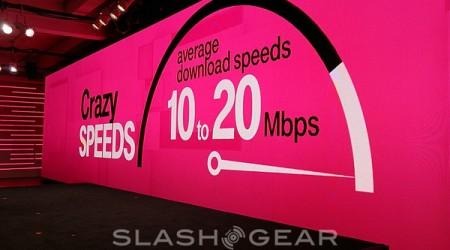 With an increase in number of mobile application and our dependency on the Internet, it was only a matter of time before a mobile service provider sweetened the deal for consumers. T-Mobile raises the stakes by offering additional 4G LTE data, tethering and unlimited international texting at no additional charge. The $50 Simple Choice Plan was well received when it made its debut last year, and under this scheme, T-Mobile hopes to do away with "customer extortion" in terms of wireless data caps and overage fees by offering new upgrades.
T-Mobile suggests that texting and surfing the net are two mainstays of most Americans and the ever-growing industry requires innovative ways to stay connected. The brand also notes that T-Mobile customers have consumed almost 50% more data this year compared to last year, many of them tethering laptops and tablets to the Internet through connected devices. T-Mobile appears to be taking the initiative here offering this segment a viable solution with a variety of new plans inside their Simple Choice brand structure.
In the $50 Simple Choice service plan, users will get 1GB of high-speed 4G LTE data as well as tethering and unlimited international texting (from the US) to over 120 countries and destinations across the globe, at no extra charge. A second line can be added for $30 per month and up to three additional lines for $10 per month. The added bit of 4G LTE data will be applicable to all the additional lines.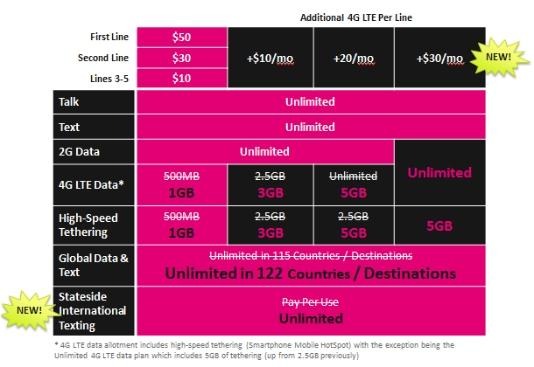 This upgrade comes automatically to all plan users and doesn't require a separate purchase. T-Mobile has also added seven more destinations to its source pool; where world travelers with postpaid connections can use unlimited data and text with low, flat-rate calls for just 20 cents a minute. These additional perks commence from March 23rd for postpaid connections and the prepaid connections can access the offer from April 26th onwards.
Source: T-Mobile