T-Mobile announces new 3G Sidekick LX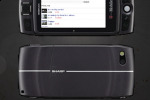 Starting today, the Sidekick LX is available for pre-order from Sidekick.com for pre-existing T-Mobile customers. The phone will retain its iconic swivel design, but now coming in two colors -orchid and carbon- and adds features such as GPS-enabled LiveSearch. The Sidekick LX will also feature a 3.2" TFT display, and a 3.2 MP camera. The new Sidekick also features a notably thinner design.
The new Sidekick will also take advantage of T-Mobile's developing 3G network, offering much faster browsing speeds than the previous generation Sidekick. This will come in handy for the social-network loving users who will advantage from the "Communities" section of the LX, which will feature one-click links to Facebook, MySpace and Twitter via an optimized application screen. These applications will also push notifications directly on the homescreen of the Sidekick, letting the user know if they have any events from their friends on their networks.
The camera will offer a new multimedia experience that will allow users to upload video straight to YouTube and share with their friends. The original Sidekick established itself early on as a social-networking and texting giant, and was one of the first consumer-grade phones to feature a full QWERTY keyboard. Hitting shelves on May 13th for $199 with a 2-year contract. Here's the full specifications:
Integrated social networking application bundle includes Facebook, MySpace and Twitter
· High-speed Web browsing with 3G support
· Built-in GPS support with Live Search
· 3.2-megapixel camera with autofocus and an LED flash
· Ability to record, play and share videos
o Share recorded videos via e-mail and upload videos to social networking sites
o Watch videos on YouTube via the web browser or on MySpace
· Carbon or orchid finish
· Music player with streaming audio and streaming RTSP video
· 3.2-inch F-WVGA screen with high-definition LCD technology with 854x480 resolution
· Support for personal e-mail, SMS, MMS, instant messaging (IM)
o Clients include AOL® Instant Messenger, Windows Live and Yahoo!® Messenger
· Iconic swivel design and full QWERTY keyboard (manufactured by Sharp)
· Intuitive user interface with Quick Find to search across all applications
· Network Address Book
· Included 1GB microSD™ memory card
· Bluetooth® 2.0 with A2DP supports stereo Bluetooth and Bluetooth file transfer to other Bluetooth devices including photo printers
· Dimensions: 5.1 x 2.4 x 0.6 inches; 5.7 ounces
· Quad-band GSM/GPRS/EDGE worldphone (850/900/1800/1900 MHz)
· Dual-band UMTS/HSDPA (AWS Band IV & Band I)
· 1250 mAh Lithium Ion battery
· Battery: 3G — 3 hours talk time, 6 days standby; 2G — 5.5 hours talk time, 8 days standby
· Software and services provided by Danger, a Microsoft subsidiary.
· Shortly following launch, T-Mobile plans to make available Exchange Active Sync support via the Sidekick Download Catalog so customers can stay virtually connected to work.