T-Mobile Announces Dell Inspiron Mini 10 With webConnect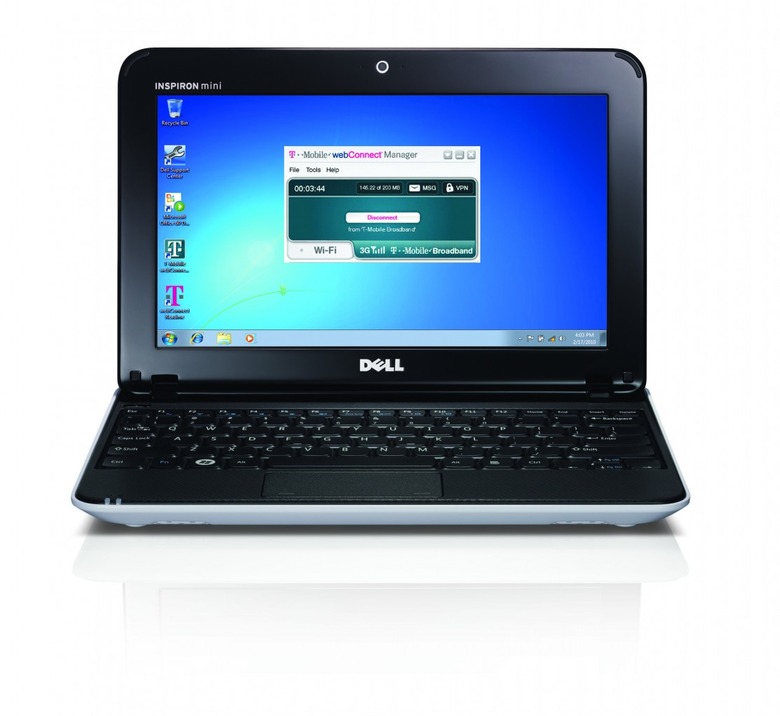 Looks like T-Mobile USA is ready to jump into the netbook game. Wireless carriers have been promoting laptops and netbooks for awhile now, all of which have their 3G connectivity bundled within, but T-Mobile has been slow to join the fray. That's all changed with the official announcement today out of CTIA 2010, that the Dell Inspiron Mini 10 has been paired with the magenta's 3G network.
The Dell Inspiron Mini 10 offers up all the ease of use from other netbooks on the market, with the same small form factor and what not, and the only real difference is the 3G capabilities within its body. Specifications wise, here is what you're looking at: 10.1-inch LED glossy WSGVA widescreen display; Intel Atom N450 processor (1.66 GHz; 512 KB L2 Cache); weighs only 3 pounds; 6-cell battery with up to 8 hours of Web surfing and up to 11 hours of standby. It's also got Windows 7 Starter Edition, so don't expect to customize your netbook experience much. And it's running with Internet Explorer 8.
Last, but certainly not least, the Inspiron Mini 10 also offers up a 1.3MP webcam, 5-in-1 media card reader, 3 USB ports, a VGA port, and stereo speakers. Luckily, the Mini 10 also offers a full-size keyboard: it's 92% the size of a standard keyboard, so your fingers should be able to find the keys just fine with normal use. And obviously, with the integrated webConnect, you get access to T-Mobile's 3G network, but also free (and unlimited) access to T-Mobile HotSpot Network locations across the United States. The Dell Inspiron Mini 10 will be available starting March 24th, for $199.99 on a new 2-year contract, and will be available in Chicago, Los Angeles, Dallas, and Miami in select retail locations. You can also go to T-Mobile's website and order one there if you want, or just call their 1-800 number. Anyone out there looking forward to this?
[via T-Mobile]