T-Mobile Android G1 Live Blog Tomorrow: Win A G1 Smartphone!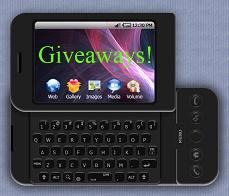 Tomorrow is Android day, and we'll be Live Blogging the whole T-Mobile G1 event over at http://Live.AndroidCommunity.com/.  T-Mobile have just put up the T-MobileG1.com website, so the countdown to the G1 is well and truly underway.  We'll also be running a competition simultaneously with the Live Blog, where you can win your very own G1.  There are no cryptic questions or trials by fire; all you need to do is be a registered member of the Android Community forums and pay attention to the Live Blog itself.
A member will be picked at random and expected to show up to claim their prize on the forum within a certain timescale.  Full details are here, as are the terms & conditions. 
The new G1 site currently gives you a teasing "all information will be available after the press conference" message, but the nature of the content is clear.  The G1 will be the carrier's flagship 3G device, and would-be buyers will have a chance to pre-order it via links on that page (though the price is unconfirmed; it's believed to be around $199 subsidized).