T-Mobile 3G network set to expand, says rumor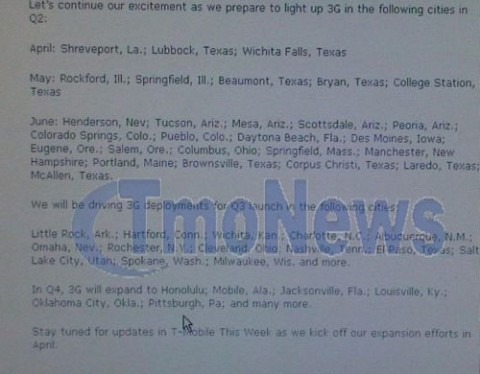 According to a screenshot captured by the people at TmoNews, T-Mobile will be expanding their 3G network coverage this year to include other cities within the U.S. Though this is just a rumor at this time, the visual evidence does seem pretty solid.
The leaked screenshot shows that T-Mobile customers in new cities will have access to their 3G network as early as tomorrow. For instance, those in Wichita Falls, Texas will have access starting this month, as will people in Shreveport and Lubbock.
Many more cities are added to the coverage list in May and June, including Springfield, Illinois. However, cities like Pittsburgh, Honolulu and others are to be added before the year is out. This seems to indicate T-Mobile is keeping good to their promise that they would be rolling out 3G coverage faster this year.