Synology DS918+ NAS Review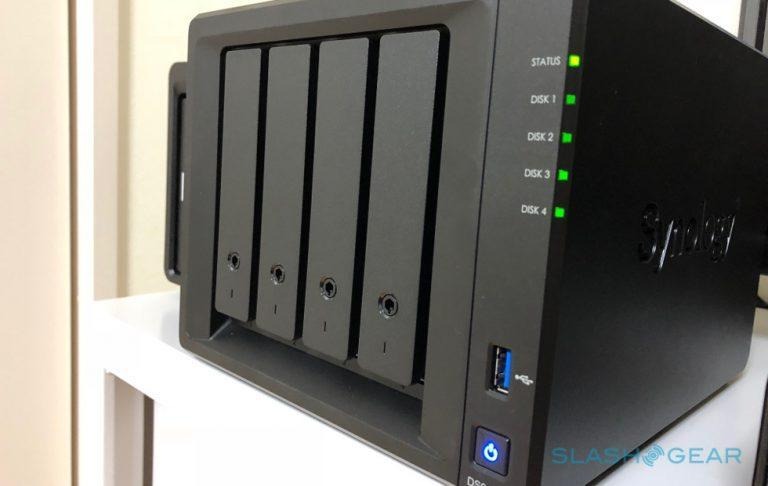 EDITORS' RATING: 9/10
Our homes are turning into small offices, whether or not they actually have home offices inside. Multiple devices, increased use, and complicated setups now require more than the average box ISPs provide. 4K videos, thousands of photos and documents, and smart TVs have easily made external hard drives ineffective. For data storage and retrieval even at home, and especially in SMBs, you'll want to invest in a solid NAS solution. And when it comes to such storage boxes, the Synology DS918+ is easily at the top of the line. This is why.
Design
Looks can be deceiving, and that is especially true with the DS918+. It follows after the DS916+ and, at first glance, it almost seems like there have been very few and superficial changes in the design. The changes Synology made, however, have very significant consequences.
The face of the DS916+ never sat well with customers. Sure, the plastic cover made it look clean, but the lock-less drive bays proved to be more cumbersome, trading in functionality for appearance. The DS918+ changes that and adopts the more functional form of the DS1517+, with its exposed trays and key locks. The NAS does, however, keep the LED indicators of its predecessor, along with a lone USB 3.0 port in front.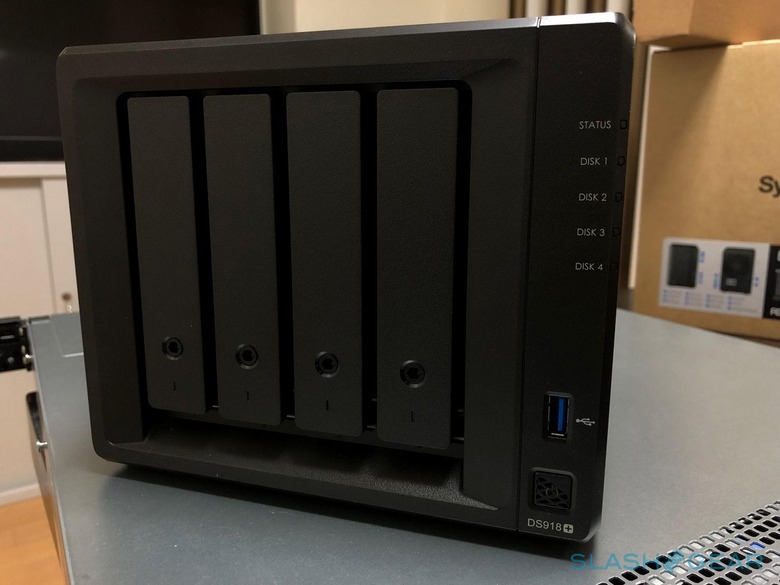 On the back, you get two large 120 mm fans to keep things cool. Below it are two RJ-45 Gigabit Ethernet ports that support link aggregation. And below that, you get an eSATA port, in case the four drive bays aren't even enough. The second and last USB 3.0 port is off to the other side by its lonesome self.
You might think that a couple of design changes wouldn't really justify the DS918+'s higher price tag. That would be correct if it were actually the case. Flip (carefully) the box on its back and you'll see the first of the things that make the DS918+ special: two built-in M.2 NVMe SSD slots. Admittedly, some might not even need this feature, but you won't have to pay extra to have an expansion dangling out of the box when the time comes that you do need an extra fast cache.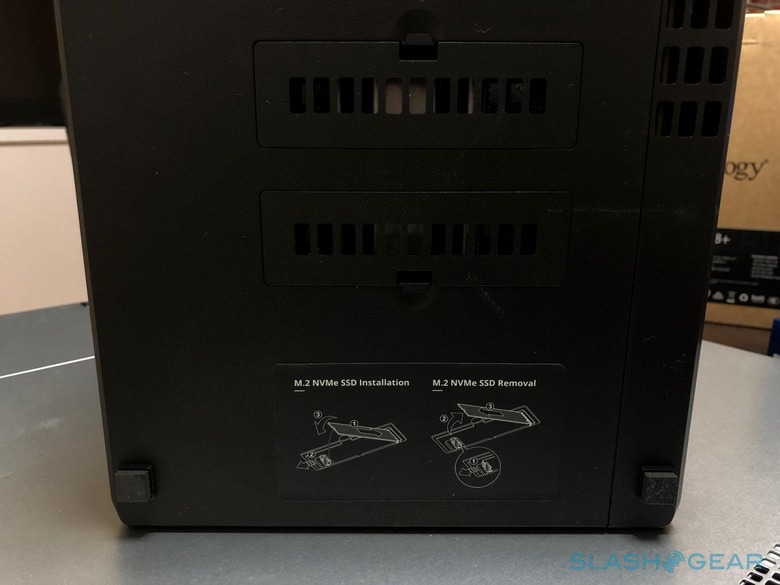 Inside, you'll see another reason why the DS918+ is worth its price. As with any Synology NAS, the drive trays are easily removed, when unlocked, of course, and are completely hot-swappable. When you remove all of them, you will then have effortless access to the two SODIMM memory slots. No more taking the box apart just to change or add RAM. Having quick and easy access to all types of memory, be it hard drive, NVMe SSD, or RAM, is one of the DS918+ winning traits.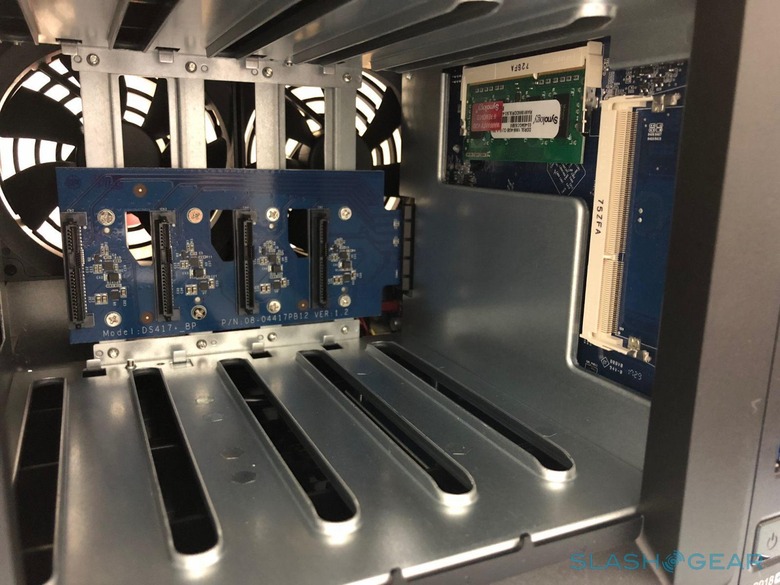 Storage
The DS918+ is a four-bay NAS and, as you might expect, it can support varying types of storage in mixed types. The NAS supports 3.5-inch and 2.5-inch SATA HDDs or 2.5-inch SATA SSDs. You can have up to 48 TB in total, 12 TB for each drive.
But if that weren't enough, you can add more using the eSATA port. You can attach, for example, a 5-bay Synology DX517 expansion unit for a total of 108 TB, 12 TB per drive. Whichever combination you use, however, you are limited to 108 TB max for a single volume, which happens to be the total maximum capacity of the DS918+ and a DX517 combined.
As mentioned, the DS918+ has two slots for M.2 NVMe SSDs. It should be noted, however, these cannot be used for actual storage. In fact, you can't even create volumes for them. They are, instead, relegated to cache duties, increasing the speed when accessing often used files and software, and taking advantage of the fact that NVMe SSD is tons faster than the already fast SATA SSD. This also has the effect of decreasing the need to spin up the main drives, which, especially for an HDD, means a longer life.
Performance
If the DS918+ looks a lot like the DS916+ save for its face, then it is inside where the most significant changes have been made. In addition to the NVMe SSD slots and easy to access SODIMM slots, the DS918+ makes a huge leap from an Intel Pentium N3710 to an Intel Celeron J3455.
Aside from the difference in cores and raw power, this Celeron, which seems to have become a favorite among higher-end NAS products, boasts of some new capabilities, like support for real-time dual channel 4K hardware transcoding, critical for streaming videos, and a dedicated hardware encryption engine. Sadly, like the Pentium N3170, the Celeron J3455 is still limited to a maximum of 8 GB RAM. A little more would have done wonders for the NAS' virtual machine capabilities.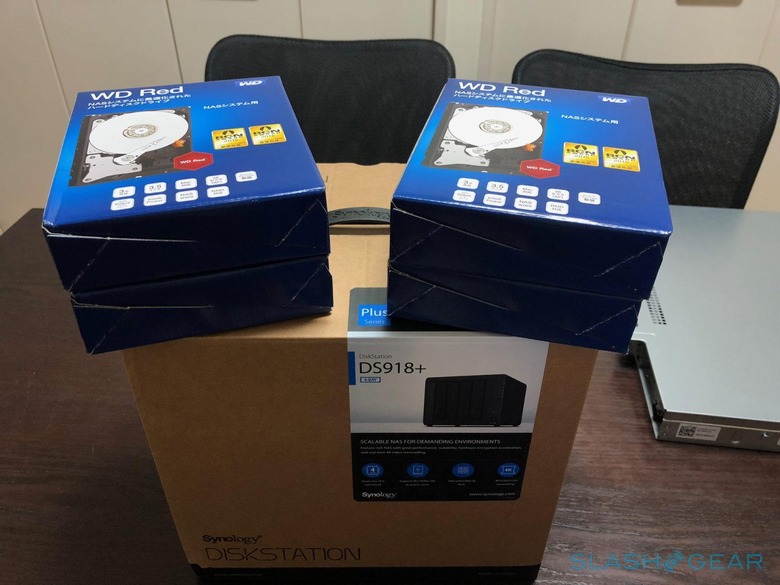 CPU processing power is one thing but, when it comes to NAS, data transfer throughput is the critical property to watch. Of course, those numbers are affected by a couple of factors, like the CPU, the type of storage used, and the format of the drives.
NAS boxes are often configured to make use of RAID technology in order to provide reliability, performance and data integrity. The DS918+ supports RAID 0, 1, 5, 6, and 10 (1+0), but, by default, it comes with Synology Hybrid RAID or SHR. This custom-made automated RAID management system makes it move drives in and out of the box and doesn't require too much knowledge of RAID technology to use.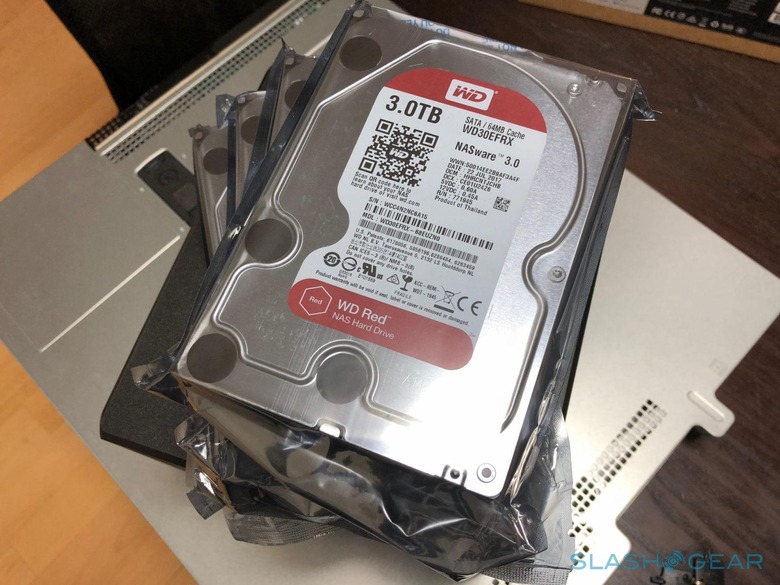 Since, for most common use, SHR is going to be the default, we tested that configuration four 3 TB Western Digital RED NAS drives. Transferring a single 50 GB file to and from the NAS gave us read speeds of 118 MB/s and write speeds of 114 MB/s, on par with expected speeds, given the conditions above. The DS918+ did choke up a bit when sending 108 GB worth of small files over a 1 Gb/s network, with transfer speeds averaging 78 MB/s. In short, your single-file 4K video will have no problem streaming from NAS to TV.
The test was done with the drives formatted to the default ext4 filesystem format. The DS918+, like almost all of Synology's NAS, also supports the newer and increasingly format btrfs. Using that barely had any significant difference in performance, which means you can take advantage of many of btrfs' advanced features without taking a performance hit. Encrypted SHR was also not tested, but, considering there is a dedicated hardware encryption engine, the decrease in throughput would also be negligible.
DiskStation Manager
While the technical performance of the DS918+ relies on some factors beyond Synology's control, like drive speed, network, etc., its software is Synology's and Synology's alone. And this is also where Synology's NAS shine the brightest.
The Linux-based DiskStation Manager or DSM pretty much gives you a regular Linux computer, but one that you access via a web browser. It would have been convenient if the NAS had a Thunderbolt 3 port that could be used for its own video output, but that would be the cherry on top. Like any normal operating system, DSM lets you install a multitude of apps, and these apps turn the NAS into more than just a mostly unused data storage that sits quietly in a corner of the room.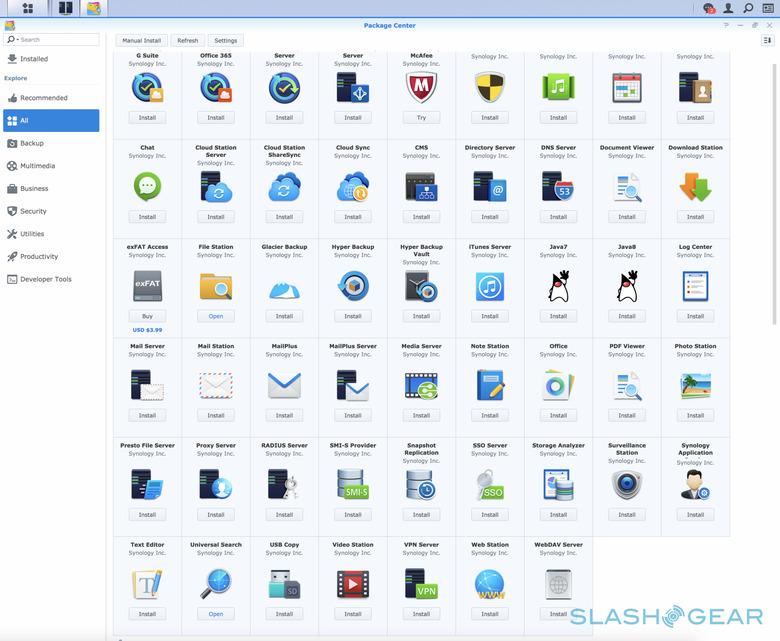 We've covered these apps before, many of which, particularly those written by Synology itself, more or less relate to the DS918+'s nature as a network-attached storage, with apps like Download Manager, Media Server, and even DNS Server. One such app, the High Availability Manager that lets you pair two Synology NAS into a cluster, is something no SMB should be without.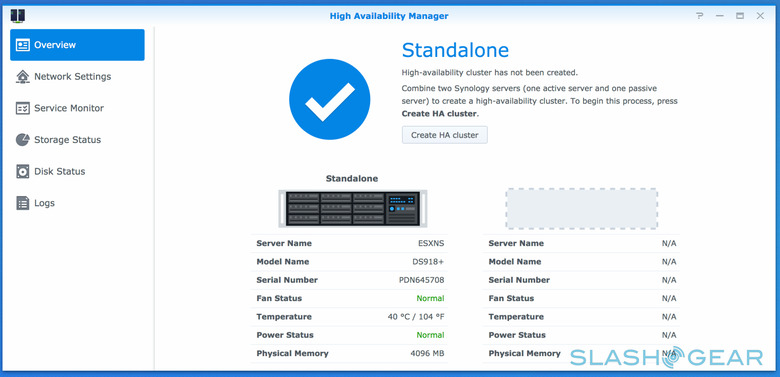 But it is the third-party apps that take the DS918+ beyond its roots, taking advantage of the fact that you are practically running a "real" computer. These apps practically let you do anything you can with a Linux computer, including web development. You are only limited by the availability of apps and Synology's DSM has loads of them.
The DS918+ can even run virtual machines for almost any operating system, which is where the NAS' improved hardware comes in handy. If you plan on running such machines or using the popular Docker container, you might want to opt for the 8 GB RAM configuration from the get-go. Sadly, it could do with more RAM, but that is all that you'll get without switching to a more powerful CPU with a higher power draw.
Wrap-up
Synology has dozens of NAS solutions for every need and budget. For home offices and SMBs, however, the DS918+ easily takes the crown with the almost perfect mix of improved hardware, future-proof expansion slots, the latest DiskStation Manager, and a plethora of apps that take the box beyond being just a data storage solution.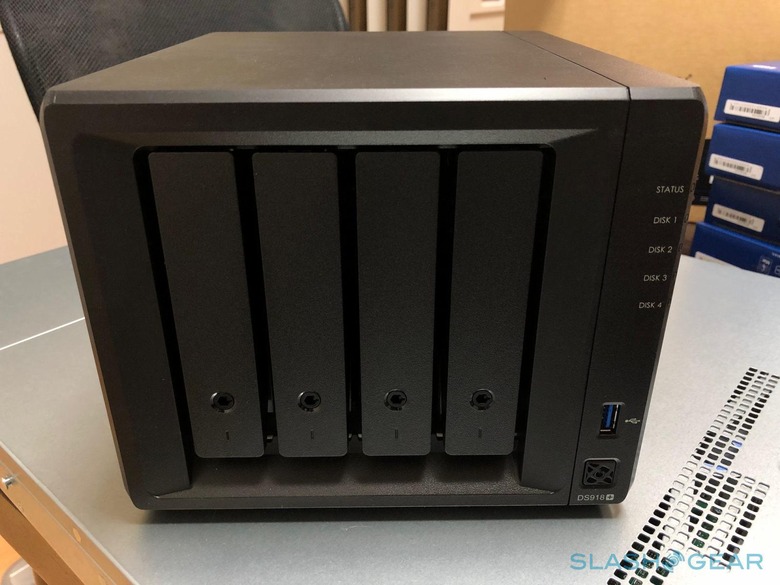 The $550 price tag, for a diskless 4 GB RAM configuration, might seem overkill for homes, but at the rate we're hoarding and consuming data, that might not be the case real soon. And you also get a Linux PC that you can almost do anything with, including running virtual machines, at no extra cost.