Synaptics shows off ClickPad and gesture control innovations at Computex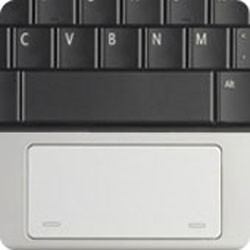 I think most of us will agree that it is great to see the lowly track pad on the notebook has made some very big changes for the better over the last few years. The track pad has gone from a simple pointing device to something that recognizes gestures and more.
Synaptics has been showing off a new ClickPad with interesting innovations in gesture control at Computex this week. Among the innovations is the first multi-finger PC TouchPad-IS family of products. The new touch pad can recognize input from four fingers at once and has SmartSense technology.
This tech prevents accidental activation of the cursor when the users palm contacts the touch pad. That is a huge innovation and one that should be used on all netbooks. Synaptics is also showing off its ClickEQ hinge-less uniform force, uniform click depth ClickPad mechanical design. Basically it's a track pad with no buttons, the track pad itself acts as the buttons. The tech is aimed at smaller machines like netbooks where a larger gesture area is desired.