Synaptics ClearPad 3000 Explained and Video Demo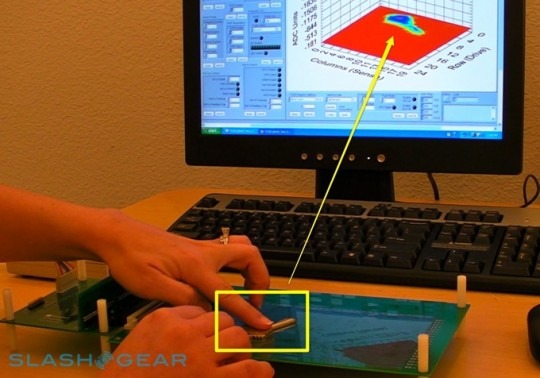 Synaptics invited SlashGear to their headquarters in Santa Clara this week to take a look at their
latest capacitive touch-panel technology
.  The company has rebranded their existing ClearPad capacitive system to ClearPad 2000, so as to make room for their new flagship ClearPad 3000.  This new panel can recognize up to 10 simultaneous finger touches together with complex multi-finger gestures such as pinch, pivot-rotate and rotate, with reduced latency and increase accuracy over what we've seen from capacitive panels to-date.
Video demo of ClearPad 3000 after the cut
In fact, touch accuracy on the ClearPad 3000 series is +/- 1mm, with panels available up to 8-inches in size.  As well as recognizing fingertips they'll also differentiate between fingers laid flat on the panel for broad swipes and the like, together with any conductive material such as keys or pens.
As part of their demo, Synaptics showed us an iPhone-styled reference design which could track pretty much as many fingers as you could squeeze onto the screen.  It also featured a new app-closing gesture, crumpling up the app, together with a more accurate on-screen keyboard which supports two-finger key modifiers such as holding down shift or control while typing capital letters or symbols.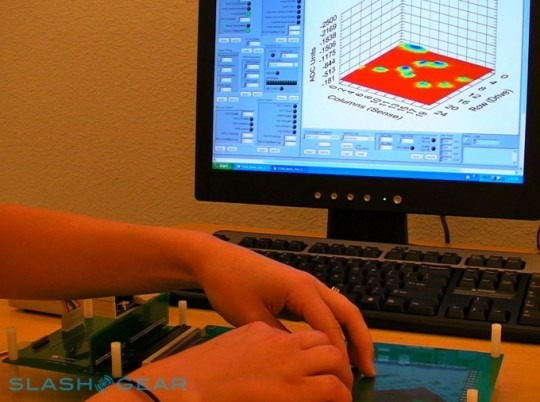 One of the key differences between ClearPad 3000 and rival capacitive systems is that Synaptics technology can treat points of contact and areas of contact differently.  As you can see in the image and video below, the system recognizes shapes and can react accordingly, rather than narrowing touch-points down to simple grid references.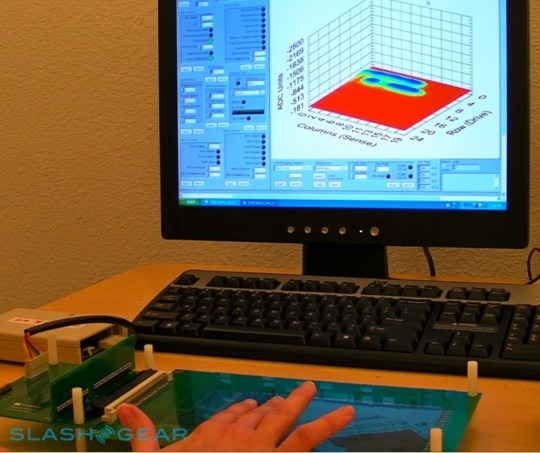 To complete their current range, Synaptics have also introduced a new entry-level multitouch system, ClearPad 1000, which recognizes single and limited two-finger gestures. The company expects ClearPad 1000 to be used in feature and mass-market touchscreen devices, which may until now have used resistive or single-touch capacitive panels. The 1000-series panels are available in up to 4.3-inch sizes and, like all of the Synaptics touch-sensors, work with LCD and OLED displays.
It's much easier to show how the ClearPad 3000 works than explain it, so check out our video demo to see the Synaptics reference design and how the new technology might change how we interact with future mobile devices. Synaptics expect the first products using ClearPad 3000 to reach the market by the end of 2009.
[vms 1f8f9de3f924f0940515]
Press Release:
Synaptics ClearPad™ 3000 Series Takes Multi-Touch to a New Level

Market Leader Expands Portfolio of ClearPad Touchscreen Solutions

SANTA CLARA, CA – July 22, 2009 – Expanding its portfolio of market-leading ClearPad™ solutions, Synaptics Inc. (NASDAQ: SYNA), a leading developer of human interface solutions for mobile computing, communications, and entertainment devices, today introduced its advanced multi-touch ClearPad™ 3000 Series capacitive touch sensor solution. Building upon the success of Synaptics' patented, flagship ClearPad touchscreen solution, the new 3000 Series offering combines Synaptics' best-in-class ClearPad sensing technology with the company's exclusive end-to-end solution stack to make it easier for OEMs and ODMs of mass-market mobile handsets and other handheld devices to integrate high-resolution capacitive touchscreens with basic gesture capability into their products, bringing them to market faster and with less risk.

Synaptics' currently shipping ClearPad solution – now branded the ClearPad 2000 Series – and its Enhanced Gesture Suite (EGR™), has achieved tremendous success in bringing the power of touch to mid- and high-end mobile phones. In its effort to offer a complete portfolio of capabilities to its customers, Synaptics has also introduced the 1000 Series, a low-cost solution with single-finger and limited two-finger gestures. Leveraging years of delivering a solution that leads in optical clarity, reliability, and power management, with today's 3000 and 1000 Series announcements, Synaptics has expanded its touch sensor portfolio to serve the growing touchscreen market with a complete portfolio of touch solutions. OEMs can now select from a full range of touch and gesture capabilities, from single-finger touch with simple gestures to multi-finger touch with complex gestures.

"By enabling more devices to have multi-finger gesture capabilities, our premium ClearPad 3000 Series opens the door for innovative software developers to push the edges of the user interface envelope by creating exciting new classes of applications – such as multi-user gaming – not possible before, giving OEMs greater flexibility to differentiate their products," said Tom Tiernan, Synaptics president and COO. "Synaptics' leadership is built on leveraging our industry-leading complete solution stack, driving innovation and best-in-class R&D, and enabling our customers with powerful and easy-to-use interface solutions to differentiate their products. The 3000 Series is the latest demonstration of our commitment to providing our customers with complete touchscreen solutions."

With its ability to distinguish up to 10 simultaneous finger touches and complex multi-finger gestures (e.g., pinch, pivot rotate and rotate) with fine accuracy and low latency, the ClearPad 3000 Series sensors are ready for the next generation of 3D graphical user interfaces on a broad array of handheld consumer electronics devices. The ClearPad 3000 Series is based on new, proprietary Synaptics technology that features 48 sensing channels and advanced power management, allowing for larger screen sizes up to 8 inches diagonally with more accurate sensing and low power consumption. Engineered to be nearly borderless with best-in-class edge performance and high noise immunity, the ClearPad 3000 Series offers a thin, low-profile design that enables OEMs to create sleeker, more compact, and stylish product solutions, optimizing industrial design while using any industry standard LCD display.

ClearPad3000 Series touch sensors feature an accuracy of ±1 mm, are only 0.400 mm thick, offer full multi-finger tracking and are available in sizes up to 8 inches diagonally. ClearPad 3000 Series solutions offer low power consumption with 5 mA in full active mode, 150 µA nominal, and 12 µA in deep sleep mode for extended battery life.

"While other vendors may be able to show a slick demo of their multi-touch sensor solutions, only Synaptics understands the complexities of making them work in the harsh, challenging environments of real-world products," said Gopal Garg, senior vice president of Synaptics' handheld business unit and corporate marketing. "We have the experience and expertise to help customers get to production quickly, with products that not only work as per expectation, but also offer advanced functionality."

Synaptics provides an industry-leading and comprehensive suite of software tools with an easy-to-use interface for the ClearPad 3000 Series that enable manufacturers to rapidly transition from design to development to prototyping stage to mass production. Synaptics also offers its customers PC-based pre-production and production test support hardware and software optimized for speed and full coverage of sensor manufacturing defects, which includes software limits to optimize yield.

As with all ClearPad solutions, the ClearPad 3000 Series is supported by Synaptics' exclusive solution stack and engineering services from its worldwide customer design centers to address the multi-dimensional engineering challenges customers face when creating and implementing advanced human interfaces. The Solution Stack delivers a broad range of services and deep knowledge in the multiple engineering disciplines required to create reliable products that go far beyond standard chip offerings, and integrates these key capabilities to help OEMs create reliable, highly intuitive human interfaces that meets their design and usage requirements.

A Complete Solution Stack

Synaptics' market leadership is built upon its Solution Stack, a complete and reliable design process which includes systems engineering and system integration, firmware/software design, module design, mixed-signal ASIC development, gesture/character development, human factors/usability, supply and support, concept prototyping, and testing and qualification. The Synaptics Solution Stack addresses multi-dimensional engineering challenges customers face when creating and implementing advanced human interfaces – challenges best solved at specific steps in the design process. Synaptics delivers a broad range of services with deep knowledge in multiple engineering disciplines that go far beyond standard chip offerings, and that integrate these key capabilities to deliver a reliable, highly intuitive human interface that meets customers' design and usage requirements.

"Multi-touch lays the foundation for a better user interface. DisplaySearch forecasts that the market for touchscreens with multi-touch capability will grow from $0.8 B in 2008 to over $4B in 2015," said Dr. Jennifer Colegrove, director of display technologies at DisplaySearch. "OEMs welcome touchscreen suppliers who can provide the whole multi-touch solution with low risk, reliable manufacturing, design flexibility, and a seamless production ramp."

Availability and Pricing

Synaptics ClearPad 3000 series engineering samples for general release will be available in November 2009. For pricing and more information about Synaptics and its ClearPad product line, please visit http://www.synaptics.com/solutions/products/clearpad

About Synaptics

Synaptics (NASDAQ: SYNA) is a leading developer of human interface solutions for the mobile computing, communications, and entertainment industries. The company creates interface solutions for a variety of devices including notebook PCs, PC peripherals, digital music players, and mobile phones. The TouchPad™, Synaptics' flagship product, is integrated into a majority of today's notebook computers. Consumer electronics and computing manufacturers use Synaptics' solutions to enrich the interaction between humans and intelligent devices through improved usability, functionality, and industrial design. The company is headquartered in Santa Clara, Calif. www.synaptics.com
Press Release:
Synaptics Debuts ClearPad™ 1000 Series Touch Sensors for Mass Market

Expands Portfolio with Value Solutions that Promise Broad, Global Adoption of Capacitive Touchscreen Technology

SANTA CLARA, CA – July 22, 2009 –Synaptics Inc. (NASDAQ: SYNA), a leading developer of human interface solutions for mobile computing, communications, and entertainment devices, today introduced its ClearPad™ 1000 Series capacitive touch sensor solution, expanding its portfolio of market-leading ClearPad offerings to address the growing worldwide demand for mass-market touchscreens, and to provide customers an easy and competitive transition from legacy resistive screen applications. The ClearPad 1000 Series solution combines Synaptics' patented best-in-class ClearPad sensing technology with the company's exclusive end-to-end solution stack to make it easier for OEMs and ODMs of mass-market mobile handsets and other handheld devices to integrate high-resolution capacitive touchscreens with basic gesture capability into their products, bringing them to market faster and with less risk.

Synaptics' currently shipping ClearPad solution – now branded the ClearPad 2000 Series – and its Enhanced Gesture Suite (EGR™), has achieved tremendous success in bringing the power of touch to mid- and high-end mobile phones. In its efforts to provide a complete portfolio of capabilities to its customers, Synaptics has also introduced the 3000 Series, an advanced solution offering powerful multi-finger gesture support. Leveraging years of delivering a solution that leads in optical clarity, reliability, and power management, with today's 3000 and 1000 Series announcements, Synaptics has expanded its touch sensor portfolio to serve the growing touchscreen market with a complete portfolio of touch solutions. OEMs can now select from a full range of touch and gesture capabilities, from single-finger touch with simple gestures to multi-finger touch with complex gestures.

"Our ClearPad 1000 Series brings our value to the mass market, and creates the opportunity for our capacitive touch technology to reach worldwide markets through the wave of mobile expansion occurring in BRIC and other emerging regions," said Tom Tiernan, Synaptics president and COO. "Today, Synaptics is again demonstrating its leadership by providing a full range of touchscreen solutions that go far beyond standalone chip offerings, with the multi-dimensional engineering knowledge, software, services, and support needed to ensure our customers' success."

The ClearPad 1000 Series solution is uniquely designed for single-gesture performance and offers the best-in-class edge performance, high accuracy, design flexibility, and manufacturing reliability OEMs need to drive additional value in feature and mass-market touchscreen phones, and other consumer electronic devices. Solid state, durable, and resistant to wear, ClearPad 1000 Series capacitive touch sensors deliver a compelling user experience not possible with legacy touchscreen technology, which is prone to clouding, poor gesture performance, and loss of sensitivity. ClearPad 1000 Series sensors can support single-finger gestures (i.e., tap, double tap, tap and slide, pinch, press and flick) with Synaptics' Enhanced Gesture Recognition (EGR) option.

"The more sophisticated applications and usage models now appearing on mobile devices require a more sophisticated touchscreen technology to create a better user experience than what legacy technology can offer," said Tiernan. "ClearPad is an ideal upgrade to existing and competing solutions because it delivers a more responsive, more durable interface with the advanced gestures needed to support modern touch- and gesture-based user interface designs that give users access to a broader range of mobile services and applications."

ClearPad 1000 Series touch sensors feature an accuracy of ±3 mm, are only 0.300 mm thick, have been engineered to require no side borders, and are available in sizes up to 4.3 inches diagonally. ClearPad 1000 Series solutions offer low power consumption with 1.2 mA in full active mode, 150 µA nominal, and 12 µA in deep sleep mode for extended battery life.

The new ClearPad sensors feature best-in-class edge performance and superior optical clarity, and require a minimal border width, allowing OEMs to maximize the display interface area and optimize the performance with any LCD technology, especially when using crystal clear OLED displays. High noise immunity, advanced power management, and thin, low-profile designs all promote sleeker, more compact, and stylish product designs.

A Complete Solution Stack

Synaptics' market leadership is built upon its Solution Stack, a complete and reliable design process which includes systems engineering and system integration, firmware/software design, module design, mixed-signal ASIC development, gesture/character development, human factors/usability, supply and support, concept prototyping, and testing and qualification. The Synaptics Solution Stack addresses multi-dimensional engineering challenges customers face when creating and implementing advanced human interfaces – challenges best solved at specific steps in the design process. Synaptics delivers a broad range of services with deep knowledge in multiple engineering disciplines that go far beyond standard chip offerings, and that integrate these key capabilities to deliver a reliable, highly intuitive human interface that meets customers' design and usage requirements.

"Handsets today are integrating multiple complex technologies which can and often do interact and interfere with each other, posing significant challenges for design engineers who may lack the specific domain expertise to anticipate and mitigate these issues," said Amy Leong, research director for Gartner. "OEMs increasingly are relying on technology vendors to provide complete solutions for integrating these products into their designs much more quickly and effectively and with lower risk."

Availability and Pricing

Synaptics ClearPad 1000 Series engineering samples will be available in August 2009. For pricing and more information about Synaptics and its ClearPad product line, please visit http://www.synaptics.adamlondon.com/solutions/products/clearpad

About Synaptics

Synaptics (NASDAQ: SYNA) is a leading developer of human interface solutions for the mobile computing, communications, and entertainment industries. The company creates interface solutions for a variety of devices including notebook PCs, PC peripherals, digital music players, and mobile phones. The TouchPad™, Synaptics' flagship product, is integrated into a majority of today's notebook computers. Consumer electronics and computing manufacturers use Synaptics' solutions to enrich the interaction between humans and intelligent devices through improved usability, functionality, and industrial design. The company is headquartered in Santa Clara, Calif. www.synaptics.com