Synaptic Waves gestures introduced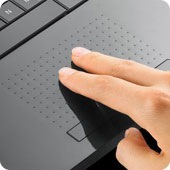 Gestures are not a new thing for laptops, however they have gained more attention as of late due to the gestures introduced on the iPhone. Even so, there were gestures for laptops though they could only be used for limited functions or were software specific.
Now, Synaptics is introducing new gestures for laptops. There's the ChiralRotate, wherein you make a circular motion with one finger, which rotates the screen. There's also the Two-Finger Flick, which can make for sideways scrolling, flipping pages or what have you.
These functions are described as "drop-in driver upgrades" for the Synaptic trackpads that are already "multi-touch aware." This is really cool because a lot of laptop trackpads are made by Synaptics, which means you might have one right now, which means you could download the driver and start using gestures right now!
[via Gadget Lab at Wired]