Swype now available via Google Play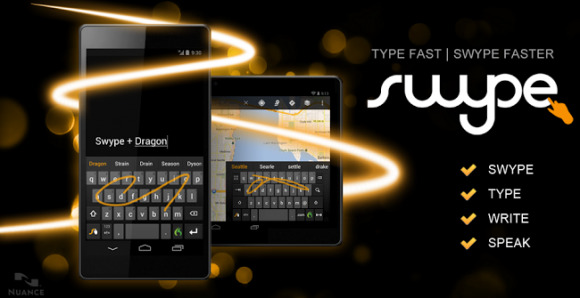 Nuance has rolled out its latest update for Swype, bringing with it some new keyboard themes, and a few other improvements and and change. The big news, however, is that for the first time Android users can get the keyboard app from Google Play, which has a limited-time special price of $0.99, after which point you'll have to shell out an unspecified amount.
In addition to the limited-time special pricing, Nuance is also offering a free 30-day trial, giving those who've never used it before a chance to find out what it's all about. The big news aside, users will find a total of 13 keyboard designs, with two new ones being added: Holo and Artic. Living Language Dialect support has also been expanded, gaining support for more than 20 dialects. Australian users, for example, will enjoy auto-loaded words like brekky.
For Dragon Mobile Assistant, a simple method has been added that allows users to pull up the personal mobile assistant by dragging their finger between the Swype button and Dragon flame. And it's worth noting that Swype is no longer in beta, but Nuance advises that users who want to remain in the beta program for when new features are developed can do so by hitting up Swype's Beta page.
Nuance Mobile's Executive Vice President and General Manager Mike Thompson said, "Swype was a game changer when first unveiled, and ever since, it has continued to set the bar for intuitive and intelligent keyboard innovation ... Based on the incredible success of our beta program and our vocal customers, we decided to extend the power of Swype to more Android users through Google Play. Android users deserve the best keyboard – settling for an alternative is no longer necessary."
[via Engadget]