Switch 8 Solar Charger Harnesses The Sun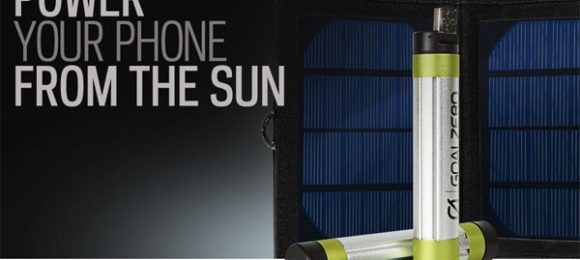 If you're on the go a lot away from a power outlet and have gadgets that you need to keep charged an external battery will help you keep going. The problem with normal external batteries is that they have to be plugged into an outlet typically to charge themselves. A new solar charger has surfaced called the Switch 8.
This charger has a stick-shaped battery with the USB port at one end and a USB plug on the other. The solar panel itself looks like a small notebook and folds open revealing a pair of panels that harness energy from the sun and send it to the rechargeable battery.
Users can then plug anything that uses a USB port to charge into the other end of that battery for power. The manufacturer claims that the battery itself can be completely charged using only the sun in about six hours. The lithium-ion battery has interchangeable tips allowing it to work with just about anything from USB to specific devices such as the iPhone, Droid devices, and lots more.
It appears initially the device will come with the USB adapter and additional tips and accessories for the Switch 8 will launch this coming spring. The Goal Zero Switch 8 Solar Recharging Kit can be purchased right now at REI retailers and online for $99.99.