SwingTIP uses technology to make you a better golfer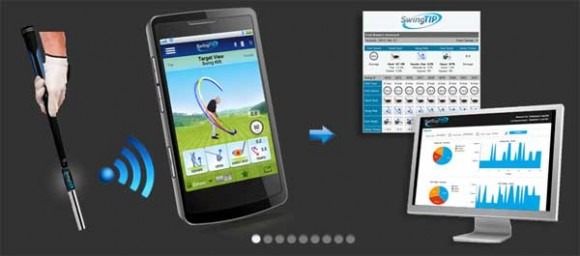 There are many things in this world I simply don't have the patience for, and one of those is golfing. If you do have the patience for golfing and want to improve your game, a new gadget has debuted called SwingTIP. The device is designed to analyze your golf swing using a Bluetooth-enabled 3-D motion sensor that clips onto any golf club.
That motion sensor sends data to an app that runs on your smart phone. Apps are available for the iPhone, iPod Touch, and Android devices. Together the application and 3-D motion sensor can deliver golfers video-like swing animations, mechanical statistics, instructional learning, and performance tracking scorecards. The data can also be synchronized online to MySwingTIP.com.
The motion-detecting sensor weighs 1 ounce and has dimensions similar to a standard flash drive. The manufacturer promises that the sensor won't affect your golf swing. The sensor is Bluetooth-enabled and has a pop-up site lever making it easy to align the sensor on the club shaft. The sensor is also designed to turn itself off when not in use to save battery power.
The SwingTIP sensor promises to have enough battery life for a 200-swing golf session. The internal rechargeable battery recharges using a USB port. The SwingTIP Golf Swing Analyzer Package has an MSRP of $129.99. The package includes the wireless 3-D motion sensor, club holster clip, shims for smaller club shafts, USB charging cable, and a quick-start guide. The SwingTIP system is available now.