Swimmers Get A New MP3 Player Dubbed The Dolphin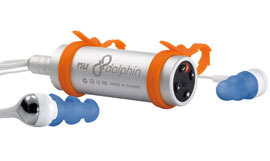 If you do a lot of swimming, then I'm sure you get tired of not hearing much of anything while you're under water. Perhaps some music would make the laps go by faster.
The new Dolphin MP3 player was designed with the swimmer in mind. It holds either 1GB or 2GB of music, depending on the model and can strap to either your goggles, or to an included armband.
Unfortunately, these only appear to be coming to Japan for 19,800 Yen, which is around $160. You'll need to make a friend over there or find an importer to get your hands on one.
Dolphin MP3 Player for Swimmers [via anythingbutipod]