Swarovski-Coated Halo Master Chief Helmet Gets Auctioned For Charity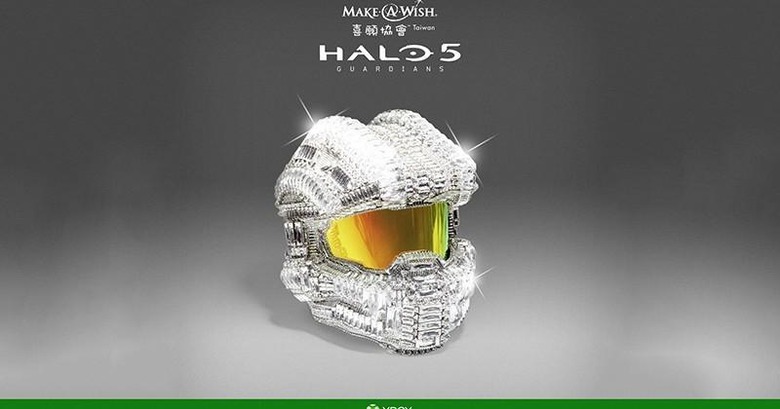 Unless you've been hiding out in a cave with no internet connection, you're probably aware that today marks the launch of Halo 5: Guardians. Last night, game stores across the country and around the globe opened their doors at midnight, just so gamers could get their fix. I've seen a lot of pre-order bonuses and tie-in products, but here's a one-of-a-kind Halo collectible that you probably haven't seen.
Taiwanese cosplayer Hsu Chia-Hao and Australian designer Jenny Manik Mercian have teamed up to recreate Master Chief's helmet in a pretty unique way. Rather than a simple plastic coating, the entire helmet (save the visor) is covered in a total of 25,000 Swarovski crystals. After all, when I think of Halo, I think of Swarovski crystals.
So what possessed these two artists to craft a helmet worthy of Daft Punk? It turns out that it was all done for the Make A Wish Foundation. No, this wasn't someone's wish. Instead, it is currently up for auction on eBay, with all proceeds going to the charity.
Check out the cool video below, which shows both creators, and gets their perspective on this collaboration. Currently the helmet is sitting at just over $500, but with more than 8 days to go, I'm sure we'll see that price go up, considerably.
VIA: Eurogamer
Source: eBay