Swarm Will Use iOS 8 Widgets For Easier Check-Ins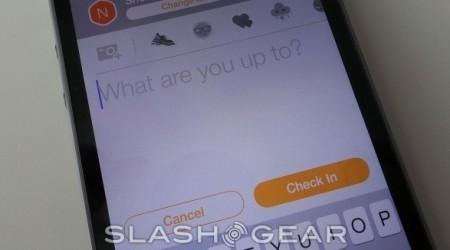 When Swarm was created to take check-ins out of the hands of Foursquare, it created another footprint on your smartphone. Little more than a "here I am" app, Swarm did one thing, but did it exceedingly well. Still, you had to open the app to check in, and that seemed a bit cumbersome, no matter how easy the task was. Taking advantage of the new iOS 8 widget functionality, Swarm is making checking in a LOT easier. Now you don't even have to leave your lock-screen to check in.
The widget makes a home on your "Today" heading in the pull-down shade on iPhone. Like other widgets, Swarm's is meant to shove information in your face with a quick glance. It will tell you which friends are nearby, and where you are, of course.
It also lets you check in with a quick tap of their icon. That will make checking in at your favorite place simple, and a lot less annoying that opening an app for something so simple.
It should also keep Swarm in good stead with users. After a huge amount of attention paid to Swarm on launch, it vanished from our mindset — and the App Store top 1,000 — quickly.
The iOS app is set to update today, but Foursquare (Swarm's parent app and company) isn't saying when or if similar functionality will hit Android.
Via: The Verge