Galaxy Note 10+ rated display and camera king, but not for long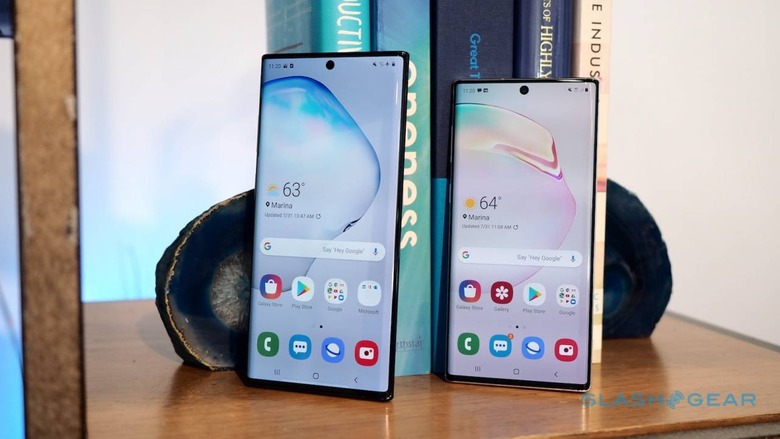 The Galaxy Note 10 is here, and as expected, it's challenging other flagships in terms of quality of components. That's true of the Galaxy Note 10+ in particular, which is receiving some high praise for its display and its cameras. Of course, given its status as a high-end flagship, that praise probably won't come as a shock to most people.
As it usually does whenever a new flagship is released, DisplayMate has released a lengthy analysis of the Galaxy Note 10+'s display. It's worth reading through in its entirety when you have the time, but the key takeaway is that the Galaxy Note 10+'s OLED display has either broken or met 13 different smartphone display performance records.
Given Samsung's expertise in producing displays, we'd expect one of its own smartphones to have a high-quality screen, but DisplayMate says that the phone "is the most innovative and high performance smartphone display that we have ever lab tested." Some of those aforementioned records it either set or met include the largest native color gamut, the highest absolute color accuracy (which DisplayMate says is visually indistinguishable from perfect), the highest peak display brightness, and the highest contrast ratio.
DisplayMate isn't the only one lavishing praise on the Galaxy Note 10+ today, as DxOMark has also awarded the phone first-place rankings for selfie cameras, rear cameras, and video. The Galaxy Note 10+ scored an overall selfie score of 99, landing a 103 for photo and a 93 for video. Conversely, rear cameras snagged an overall score of 113, with a whopping 118 for photo and a 101 for video.
That 113 is enough to put the Galaxy Note 10+ in the first-place spot on DxOMark's mobile rankings, but it may not be long before it's challenged for that crown. New flagships from Apple and Google are due out in the next couple of months, and while there's no guarantee that either of them will claim the top spot, Apple and Google have both traditionally been contenders at the highest levels of DxOMark's mobile rankings.
Obviously, there's more to a mobile device than just the display and the cameras, but if those are important aspects of a smartphone to you, then it sounds like you could do a whole lot worse than the Galaxy Note 10+. Of course, the Galaxy Note 10+ is also a phone that starts at $1,099, so while you're getting some serious hardware, that's definitely coming at a price. Be sure to read through the full reviews from DisplayMate and DxOMark if you've got a moment, because they both provide in-depth analyses of some important smartphone components.