Surface Go review round-up: No clean sweep for Microsoft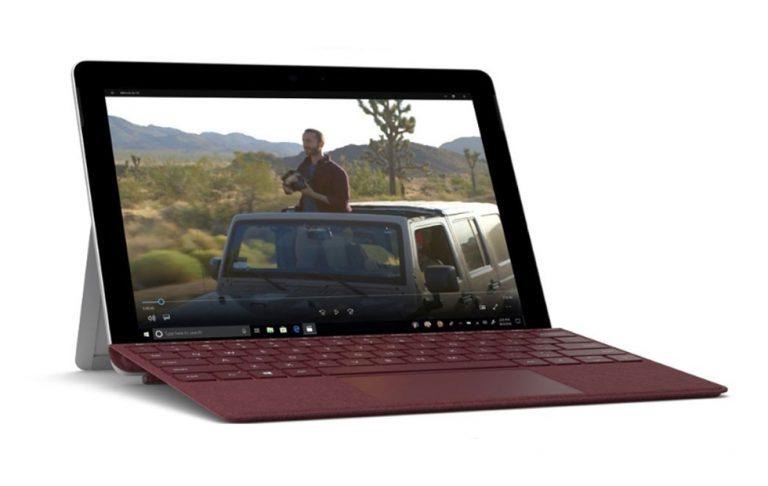 The newly launched Microsoft Surface Go promises the Surface experience in a cheaper ultra-portable package. The first batch of Surface Go preorders are shipping out today and reviews are rolling in. What do the experts have to say about Microsoft's Surface product for the masses? A little bit of everything, complimenting the device's portability and style while uniformly complaining about one big issue.
READ: Microsoft Surface Go is shipping a day early
Microsoft's new 2-in-1 Surface Go has a starting price of only $399 USD, making it the most approachable Surface model for the general public. At that price point, buyers get a 10-inch 1800 x 1200 display, an Intel 4416Y processor, 4GB of RAM, 64GB eMMC storage, and battery life at around nine hours. That's a considerable hardware sacrifice over the Surface Pro, which starts at a much higher $799 USD.
Visually speaking, the Surface Go is readily identifiable as a Surface product, and it brings a bunch of features buyers are likely to want, including a headphone port, USB-C, 10-finger multitouch, Windows Hello support, detachable keyboard covers, and a very slim overall size at a bit over a quarter-inch.
Customers buying at the lowest price point are making the biggest compromise, choosing a cheaper cost for a slower processor. Multiple early device reviews point out the slow speed, with Engadget, for example, pointing toward the slow processor as one of the model's downsides. Their review unit — which was the more expensive 8GB model — had issues loading content-heavy pages or syncing OneDrive files.
"Basically, any task that's the least bit demanding would rocket my CPU usage to 100 percent," the review states.
Other reviews had similar things to say, including Gizmodo, which notes that it's better to treat the Surface Go like a tablet rather than a Windows laptop — throw things at it like a more powerful laptop and you'll just bog it down. In fact, poor performance is the primary complaint in a sea of otherwise glowing compliments directed at the Surface Go.
Venture Beat notes that the Surface Go has to occasionally catch up to an activity, such as typing, due to obvious lag, which is also present when doing things like maximizing a YouTube video. The reviews point toward some other annoyances that buyers should take note of, such as the cramped keyboard that people with large hands may find uncomfortable, as well a large power adapter.
That said, many reviews have overall great things to say about the Surface Go, including its very light and small size, making it a great option for travel and other times when portability is paramount. ZDNet, for example, calls the Surface Go the "best cheap PC ever" despite its shortcomings, praising the portability.
Ultimately, early reviews suggest that buyers should be mindful about their needs and expectations before jumping into the Surface Go. It's important to note that many reviewers were using the 8GB model, which features a 128GB SSD rather than the slower 64GB eMMC. For something portable that can handle email, documents, and general web browsing, the Surface Go is a winner. Those with more demanding needs, though, such as using Photoshop while streaming music and toggling a dozen browser tabs, may be well advised to look elsewhere.