Surface Dial support coming to Surface Pro 4, Surface Book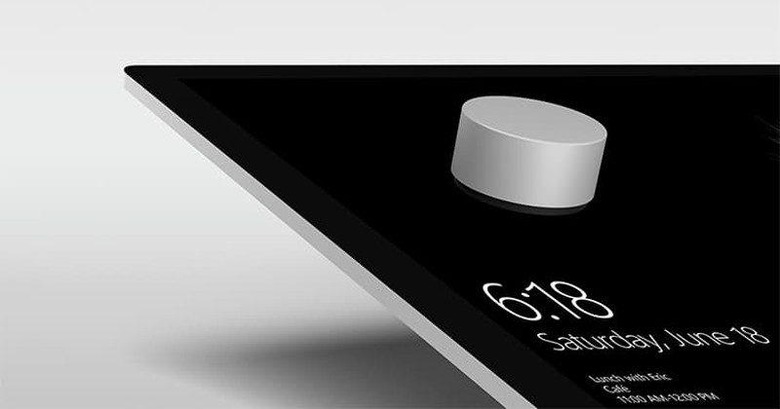 As interesting as the Surface Studio is, especially for artists, it is made even more interesting by the Surface Dial accessory. But while the Surface Studio won't be shipping until December, the Dial will actually be available starting November 10. Why the advance party, you might ask? Because you can actually use it with any Windows 10. But even better, if you already have a Surface Pro 4 or Surface Book, you will even be able to use it on those two's displays.
When Microsoft first showed a glimpse of the Surface Dial, there was a bit of an initial deja vu, with the accessory's similarities with the Griffin PowerMate, a Mac-specific accessory that gave radial controls to almost anything, from art apps to multimedia playback. The similarities, however, end there.
Unlike the PowerMate, the Surface Dial can be placed on the Surface Studio's display itself. In addition to twisting and turning and pressing, doing so actually displays a visual representation of what the Dial's actions will produce. No more guessing what will happen or how much you need to turn the dial to get a specific color. At the expense of occluding a certain portion of the screen, of course. On the Surface Studio, however, that's an inconsequential cost.
Not everyone, however, might be enamored by the gigantic but non-portable all-in-one computer. Fortunately, it seems that Microsoft will be catering to those people as well. According to Microsoft's Terry Myerson, the company will push out a firmware update for the Surface Pro 4 and Surface Book that will allow the Dial to work on the tablets' screens like on the Studio, offering the option of a more portable art station.
That, however, won't happen until an undisclosed date early 2017, so Dial owners will have to stick to the PowerMate way until then. Microsoft has not indicated whether that same support will also be available for the much older Surface Pro 3. The Surface Dial will cost $99 when it launches next week.
VIA: The Verge