SuperTooth Crystal Bluetooth speakerphone hands-on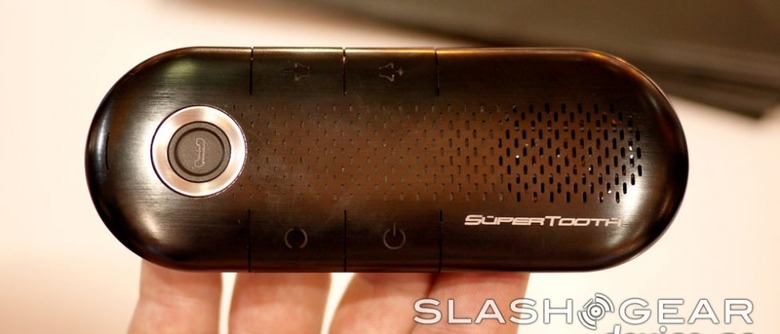 Announced back at CES earlier this year, today the popular Bluetooth and audio company SuperTooth have just released their brand new Bluetooth in-car speakerphone. This zero installation and easy to use speaker is finally available starting today and we have a few hands-on pictures and video live here at CTIA 2012 in New Orleans.
SuperTooth is touting this in-car speakerphone as a simple to use, zero installation device that will enhance your driving experience, and keep your hands safely on the wheel. Simply attach it to the sun visor or where you'd like and you're ready for hands-free calling while on the go. It's that simple. Check out the hands-on video
The SuperTooth Crystal supports Bluetooth A2DP so users with capable devices can stream music when they'd like or when not driving, and it also supports full turn by turn navigation commands for capable A2DP devices. The new SuperTooth Crystal is available starting today at SuperToothStore.com for the low price of $70 and is also available at many popular online retailers. Be sure to check out everything SuoerTooth has to offer from our various reviews via the links below and stay tuned to our CTIA 2012 Portal for all things mobile.