Super Talent now shipping RAIDDrive line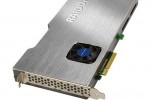 The typical SSD installs into the inside of a computer system and tends to use the SATA interface in consumer PCs. Super Talent has announced that it is now shipping its high-performance RAIDDrive SSDs that forgo the typical SSD form factor.
The RAIDDrive line slips into a PCIe 2.0 slot on your mainboard and promise to deliver speeds that traditional SSDs can't match because of the limitations of the SATA connection. The RAIDDrive series has a 1GB DRAM cache and comes in up to 2TB capacity.
The drive supports 4GB/sec of bandwidth, which is tens times what SATA-II can offer. Sequential read speeds of up to 1.4GB/sec are possible with the drive with sequential write speeds of up to 1.2GB/sec. The RAIDDrive has four discrete SSDs inside and comes in ES, WS, and GS versions. The RAIDDrive GS will sell for a whopping $4,999 and is aimed at gamers and enthusiasts.