Super Talent MasterDrive OX And PX Are Super-Fast Solid-State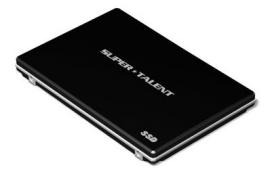 Two new Super Talent Technology solid-state hard drives were introduced this week and they are being dubbed as "dangerously fast." We don't know about the dangerous part, but they are certainly fast.
The MasterDrive OX is the more affordable model, which features multilevel cell NAND flash and 150MB per second and 100B per second data speeds for sequential read and sequential write, respectively. You can get this solid-state hard drive with up to 128GB of storage and it will cost you $419.
The MasterDrive PX, on the other hand, is a bit more expensive and uses single-level cell NAND flash, 170MB/second and 130 MB/second sequential read and sequential write speeds and a high level of endurance. You can get this drive with either a 32GB or 64 GB capacity, which cost $499 and $849, respectively.
[via Crave at CNET]