Super Talent Certifies USB 3.0 Express RC4 Flash Drive For Windows To Go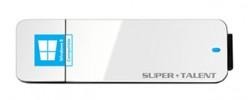 Super Talent makes some very nice flash storage solutions and other computer accessories and hardware. The company has announced that its USB 3.0 Express RC4 flash drive has now been certified for use with Windows To Go. Windows To Go is one of the new features in the Windows 8 Enterprise edition of the operating system.
This marks the second drive that Super Talent has certified for Windows To Go. Using the drive, users and network administrators are able to provision a full corporate image on the external flash drive allowing users to work from almost any computer using a familiar environment. Super Talent notes that it will unveil a "hardware secure" version of this drive soon.
Super Talent says that the RC4 will deliver high reliability and the real world performance that users need to work from a Windows To Go environment. The drive has four channels of NAND flash and uses a high-performance and low-power JMicron SSD/bridge controller. The drive also features enterprise-level provisioning allowing for performance of up to 240 MB/s during reads and up to 100 MB/s during write functions.
Like all USB 3.0 drives, the device is compatible with USB 2.0 ports. The drive will be available in three capacities including 32 GB, 64 GB, and 128 GB. Pricing for the drives is $74.99, $127.99, and $279.99 respectively.
[via Super Talent]