Super Mario Maker 2 Detailed: Story Mode, Co-Op, New Themes And Tools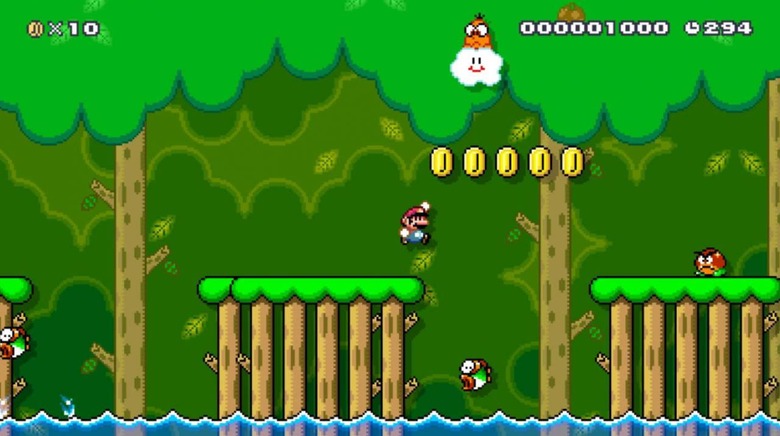 As promised, Nintendo held a new Nintendo Direct announcement today dedicated to Super Mario Maker 2, revealing all the details fans have been waiting for. Unlike the original Super Mario Maker, the sequel will feature a story mode in which players will finish courses to get coins for rebuilding Princess Peach's ruined castle. Story mode will be joined by a huge list of other changes detailed by Nintendo over its 15-minute broadcast.
Kicking off its announcement, Nintendo revealed that Super Mario Maker 2 will include the addition of Slopes, angry suns, seesaws, new mechanics, on/off switches, swappable themes, big coins, moving lava and water, scroll customization, and much more. The updated title brings four-player multiplayer, the ability to create maps with friends on a single screen, and more robust overall level creation.
Players will have multiple styles to choose for their games, including ones themed after Super Mario World, Super Mario Bros, and Super Mario Bros 3. Player-made games can also be set in four different environments: underworld, underwater, castle, and airship. New themes include desert, snow, forest, and sky.
The new Slopes feature makes it easy to add slopes into a map, including gentle slopes for less steep drops. Users get access to Snake Block with a user-determined trajectory (plus there are fast blue ones), the tilting seesaw that moves under Mario's weight, the swinging claw for flinging Mario across the map, and a water level tool for adjusting where the water is located, as well as whether the water rises over the course of the game.
A new sequel means new course themes! Desert, Snow, Forest & Sky will all be new #SuperMarioMaker2 themes. There's also new music, written by veteran Super Mario composer Koji Kondo! pic.twitter.com/qq67lTb6Tw

— Nintendo of America (@NintendoAmerica) May 15, 2019
The custom scroll addition lets users customize the scroll in a scrolling course, including speed and trajectory. Vertical sub-areas are also new to Super Mario Maker 2, as is the new scroll stop feature. Banzai Bill is present in the sequel with support for different directions, there are dry bones shells, big coins worth 10/30/50 coins, new sound effects, and so much more.
The Nintendo Direct broadcast starts at the 29:30 minute mark in the video above. Super Mario Maker 2 will be available on the Nintendo Switch console starting June 28. Creators will need an Online subscription to upload and share their Mario map creations with other players.